Thor, Taconic Put Samsung-Leased Building on Sales Block
---
---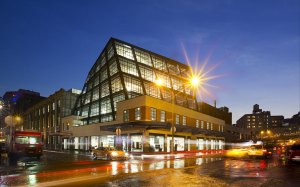 Thor Equities and Taconic Investment Partners are marketing the brand new six-story, 63,131-square-foot building leased to Samsung Electronics North America in the Meatpacking District, according to an email flyer that brokers from Eastdil Secured circulated yesterday.
The building at 837 Washington Street next to the High Line and near Google and Apple will boast a Samsung office and marketing hub through September 2025, the flyer says.
The brokers are "pleased to present the extraordinary opportunity to acquire 837 Washington," says the online flyer from Eastdil Secured agents Douglas Harmon, Adam Spies and Kevin Donner. "The property is being offered to a select group of investors on an 'as is' basis only."
Officials at Thor, Taconic and Samsung didn't immediately respond to a request for comment. The Eastdil Secured brokers declined to comment.
The area around the property has seen some high-profile and high-dollar figure sales, many of them under Eastdil Secured's auspices. The company facilitated Related Companies' $430 million buy of the nearby office property at 85 Tenth Avenue in 2007, Google's over $2 billion purchase of 111 Eighth Avenue in 2011 and Jamestown Properties' $284 million purchase of the Milk Studios Building at 450 West 15th Street last year.
The structure features more than 7,000 square feet of outdoor terraces and decks and a 9,225-square-foot retail space on the ground floor. The glass and steel exo-skeleton building commanded asking rents of $100 per square foot below-grade, $120 per square foot on the second through sixth floors and $500 per square foot on the ground floor when Samsung inked the deal, as Commercial Observer previously reported.
Samsung's agreement with Thor and Taconic carries annual increases and two five-year renewal options with 15 months' notice, the listing says. The Morris Adjmi-designed extension above a restored brick facade should attract notice.
"With a brand new mixed-use asset and no near-term lease expiration in the next 10 years, there are no capital requirements from either a leasing or physical standpoint," the flyer notes.