John Catsimatidis Talks Real Estate Deals and Monorails
---
---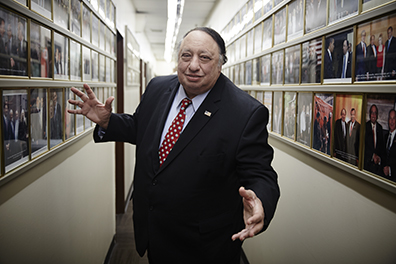 John Catsimatidis has a soft side. The businessman says he still misses Cottonball, the departed family cat for whom he built a cemetery at his East Quogue home. He wistfully reminisces about taking his (now grown) children "pumpkin hunting" and says he is collaborating with Rep. Carolyn Maloney to transport two giant pandas from China for New York City schoolchildren to enjoy.
But Mr. Catsimatidis, 66, is also a shrewd executive and the brains behind his multibillion-dollar business, the Red Apple Group, which has holdings in real estate, energy and grocery stores.
"I wouldn't live any place else but New York," Mr. Catsimatidis, the company's eccentric owner and former city mayoral candidate, told Commercial Observer. "I turned down being an ambassador…I don't want to leave New York."
Because he has faith in Gotham's future, Mr. Catsimatidis is currently undertaking a number of real estate ventures on Fort Greene's Fleet Place and Myrtle Avenue and Coney Island's Surf Avenue.
Mr. Catsimatidis, nicknamed the "Cat Man," sat down with Commercial Observer at the Red Apple headquarters at 823 11th Avenue on Election Day to discuss the possibility of pursuing public office in the future, the state of his real estate holdings and the reasons why he still plans to keep his supermarket chain, Gristedes.
What do you think distinguishes Red Apple Group from other real estate conglomerates?
We are diversified in different arenas and we have a lot of money coming in from different arenas. And I remember from my days in banking, 'cause I was a banker for a little while when I was asked to take over being chairman/CEO of this bank called First New York Bank, that what we looked at in individuals was their ability to earn money from more than one source. So, we can have a terrible year in one division, but the other divisions make a lot of money. What's been fueling that is the last four, five years, our oil company has done very well and we take the excess cash and we've been putting it in the real estate business.
All in New York? 
Yes. But, if we can't get good cooperation from the city, and I said this to The New York Times [in February], that the next hundred million we spend, we might spend it in Florida. That's a good headline, right?
It's much friendlier to business down there. 
It's business friendlier. The taxes are a lot more reasonable. The building costs are a lot less. And the weather is good, too. But I love New York! I'd rather spend it in New York.
We heard rumors that you were going to sell this building [823 11th Avenue at the corner of West 56th Street, home of the Red Apple Group headquarters]. 
Well, it's a possibility. We have a choice of building it ourselves or selling it. We haven't made a decision. But if the numbers are something—a number that we can't say 'no' to—we may do that. I'll tell you what we're doing right now. We're putting all of our current resources into building [our] Myrtle Avenue and Flatbush [projects]. It's a $500 million development and the first building is built. And the third building is finished and trying to get occupancy in January.
It's a mixed-use development? 
This is an affordable, middle-class development.
What's affordable middle class in New York these days? 
Well, it's less than Manhattan—and that's affordable middle class! That's a new definition I just created. [We wanted] 37 stories, but it's now only 32 stories, because we could not make a deal with the city. The city was impossible on it; we're going to start breaking ground for that. So that whole development should be finished by the middle of 2016.
What's the latest with your development on Coney Island? 
That's why the decision on this block [is on hold, depending on] whether we put our resources into Coney Island. That's another $500 million development. Do we take all our resources from this area, put it into that area, or do we hire additional people to build [Coney Island]? Or, we can move them to Manhattan. Or, we can move them to Miami. It's a floating situation. Since I'm the CEO of all the companies, guess who makes the decisions?
You do. 
Except, now I have help. My daughter is two years out of Stern Business School. She's 24. And my son is going to graduate in May. So I'm teaching them how to make decisions.
What about your son-in-law, Christopher Cox [Richard Nixon's grandson]? 
My son-in-law is working. He's an investment banker. And he's very well regarded in China because of the Nixon family. And he's working on a lot of deals in China.
So he's not in the family business?
He doesn't do the stuff for the family business, yet. We would welcome him in.
We're living in a post-Superstorm Sandy era. Do you feel that your properties in Coney Island will be affected? 
None of the buildings in Coney Island, other than the so-called wooden structures that were too close to the beach [were damaged]. Everything else was okay. Look, Hurricane Sandy was a once-in-a-hundred years situation. We're going to build it even sturdier, and we're going to take precautions in case there is another Sandy.
Coney Island is very hard to get to. 
Coney Island? No! If you go when there's no traffic, it's 40, 45 minutes. The subway is down the block about three quarters of a mile, and what we're thinking of doing is we're probably going to start our own trolley service.
That would be great. Is that in the plans? 
Yes. An old-fashioned trolley. Or, if I was mayor, we'd build a monorail!
Let's talk politics. Today is Election Day. What's your assessment of what's going to happen at the polls? 
Well, I think that our country is upset over what [President Barack] Obama has or has not done. And I think they're going to vote a Republican Senate in to create a situation where it would be harder for [Mr. Obama] to make wrong decisions for our country. Look, I have nothing against [Mr.] Obama, but I don't believe he had the experience to be president of the United States. He's trying very hard, and I noticed he's gotten gray hair over it.
A little closer to home, how do you think Mayor Bill de Blasio is doing? 
The jury is out. I think he made a great decision on appointing [New York City Police] Commissioner [William] Bratton originally, and I'm glad he had a press conference supporting Commissioner Bratton [after NYPD Chief of Department Philip Banks III submitted his resignation last month].
You have a personal relationship with the Clintons. Do you think Hillary Clinton will run for president? 
I think she's going to run. I think she wants to run. And [former] President Clinton wants her to run. So if everybody's healthy, they're going to run. But I think [Mr.] Obama is still going to try to get his way [on who he wants for the next president].
Whom do you think President Obama wants? 
Maybe Elizabeth Warren. Maybe Mayor de Blasio.
Do you really believe the president wants Mayor de Blasio? 
Well, Mayor de Blasio and [Mr.] Obama have the same campaign manager, [David] Axelrod. Same company. Actually, Mayor de Blasio, by the time the presidential run comes around, will have more experience than [Mr.] Obama had when he ran. [Editor's Note: David Axelrod sold his firm AKPD when he joined the White House. Mr. Axelrod was not involved with the firm when it ran Mr. de Blasio's campaign.]
Had you won the mayoral race in 2013 when you ran as a Republican candidate, what would you be doing differently in the city? 
I think I'd be making long-range plans for infrastructure. I think I would be promoting more developments. What I was pushing originally was transit-oriented development, where I up-zoned the areas around where subway stations are. If we build a facility, the people living there are able to go from their home to their job without driving. I'd make sure that our streets remained safe because, if our streets are not safe, that can affect a lot of things. And I think that's very important. I had a lot of plans. I think safety and education are the top two priorities.
Do you think you'll run for office again? 
Well, I'm going to be older and I don't know what kind of energy I'll have. But look, I'm not rooting against Mayor de Blasio. I hope he does a good job for all of us, cause we all live here. But if he runs for president, you never know.
You sold your campaign water [labeled "John Catsimatidis, Mayor For All Boroughs"] at your supermarket Gristedes. How were sales? 
I think we just about sold out. It became a novelty. I joked about it on the radio that when Jimmy Carter was president, we had Billy Beer which was Jimmy Carter's brother and I still have a couple of cans of Billy Beer around. And it was funny. It was fun. You know, that's what New York City is all about. We all work hard, but let's have a few laughs at the same time.
Overall, how is the Gristedes franchise is doing? 
It's doing okay. It represents less than two or three percent of our company's sales.
So why still own it? 
Some of the people have been with us for 30 years and I'm keeping it for them so they don't lose their jobs. And if I didn't have Gristedes, I'd live 10 years longer and I would probably be worth more. Our main businesses are energy and real estate. And we've dwindled our businesses in aviation.
What I'm talking about is what's happening in New York. It's becoming very competitive. And it's a big problem. The big problem is we had Whole Foods open up big stores. We had Costco open up. We had Fresh Direct open up. We had Amazon open up. We had Trader Joe's open up. We had every drugstore in the city [become] a supermarket, just about. So the competition is not like it's ever been before. And we are fully unionized. And our full-timers get $10 an hour in just benefits. So how do you make that work? And every lease that we have to re-up; it's a minimum million-dollars-a-year rent. It's the pressure of the real estate. The pressure of electric rates in New York City. The pressure of paying union charges and union work weeks. And it becomes like, try to win with one hand tied behind your back.