TF Cornerstone Scores Construction Loan for 606 West 57th Street
---
---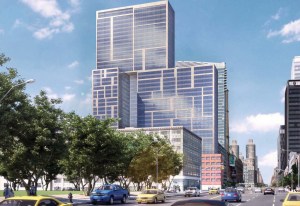 TF Cornerstone landed a $384 million construction loan for its 80/20 rental development at 606 West 57th Street from a consortium of banks led by Wells Fargo, Mortgage Observer can exclusively report.
Buffalo, N.Y.-based M&T Bank and Germany-based Helaba also participated in the deal, with each lender taking about one third of the loan, sources said. The loan carries a term of four years plus extension options and is funded through 80/20 bond financing from the state Housing Finance Agency, according to two people privy to the negotiations. The three banks declined to comment.
"We've been working on this project for almost four years now," said Jeremy Shell, TF Cornerstone's head of finance and acquisitions. "With that came structuring a ground lease and taking the project through ULURP beginning in the prior administration and coming to a close in the new administration. We closed on the financing and are now focused on getting the project completed."
The development company filed permits with the New York City Department of Buildings for the giant 42-story apartment building this summer, after winning approval from the City Council's Land Use Committee in April for the $550 million project. The filing puts the building's total construction area at 1.2 million square feet, as New York YIMBY first reported.
The completed rental building at 606 West 57th Street will contain 1,028 rental units, with 206 of those set aside for residents earning 60 percent of the area's median income. The property will also house about 38,000 square feet of ground-floor retail space, parking for 400 vehicles, and a public prekindergarten school.
Demolition on an existing garage structure and shuttered car dealership is set to commence before the year's end. TF Cornerstone will begin construction on the project in the first quarter of 2015 and expects the rental building to be completed in the spring of 2017.
"Our current strategy for developing in the multifamily space in New York City is largely through participating in the 80/20 program and other mixed income housing models," Mr. Shell said. "These programs have provided the city with much-needed affordable housing stock and historically have provided some necessary incentives to encourage rental housing production."
In total, TF Cornerstone is planning to close nearly $1 billion in four separate financings over the course of a few weeks, he said.
That includes permanent financing through Capital One and Freddie Mac for the firm's multifamily development at 95 Horatio Street in Manhattan's West Village, permanent financing through Wells Fargo and Fannie Mae for its EastCoast multifamily development in Long Island City, Queens, and an 80/20 construction loan with M&T and Bank of New York Mellon Corp. for its multifamily development at 33 Bond Street in Downtown Brooklyn. The two agency loans are due to close this Thursday and Friday, Mr. Shell said.
"It's been a busy month for us," he told MO.