Stat of the Week: 15.2% Jump in Rents
---
---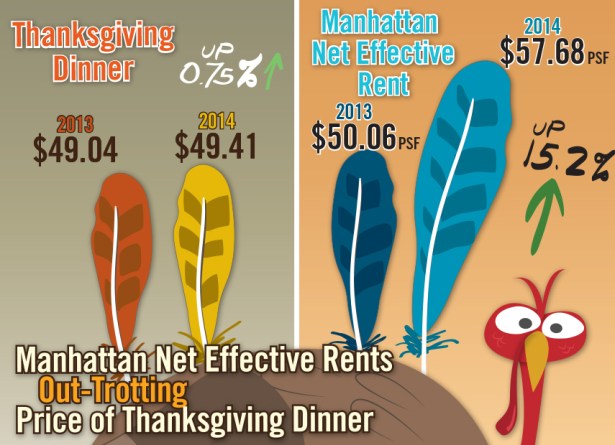 This week is one of my favorite weeks of the year. Thanksgiving kicks off the holiday season, it is a three-day workweek and it is time for the second annual Thanksgiving-dinner-themed stat of the week. Last week, the American Farm Bureau Federation (AFBF) released its annual price survey for a Thanksgiving dinner for a party of 10, and the results proved relatively stable. The price of a Thanksgiving meal has steadied at the $49 mark for the last four years, increasing only 37 cents from last year's average of $49.04 to $49.41. Despite the average price of a 16-pound turkey dropping 11 cents this year, this was compensated by an increase in the price of potatoes and dairy products.
While the price of a Thanksgiving dinner has remained steady, net effective rents throughout Manhattan have been rising significantly this year compared to 2013. Despite overall Manhattan asking rents steadily increasing 7.1 percent year-over-year to $68.96 per square foot, net effective rents jumped 15.2 percent to $57.68 per square foot. In 2013, the starting rent for all classes of space throughout Manhattan averaged $56.99 per square foot, but is up 12.2 percent in 2014 to $63.97. Concessions throughout Manhattan have remained stable compared to last year. 
Midtown South had the largest increase in net effective rents, up 24.2 percent to $55.80 per square foot in 2014. Demand for space remains strong in Midtown South, and as the available supply tightens further, deals will become more expensive in this market. Midtown followed with a 15.9 percent increase for net effective rents to $66.18 per square foot, and Downtown had the lowest increase at only 8.1 percent to $40.02 per square foot.
So as you are eating one of the estimated 46 million turkeys this Thanksgiving (along with your increasingly expensive potatoes and butter), be thankful the price of Thanksgiving dinners are not increasing at the same rate as Manhattan net effective rents … I know I will be. Happy Thanksgiving!
Richard Persichetti is Vice President of Research, Marketing and Consulting at Cassidy Turley.