Southwest Brooklyn Booming, Too: Massey Knakal
---
---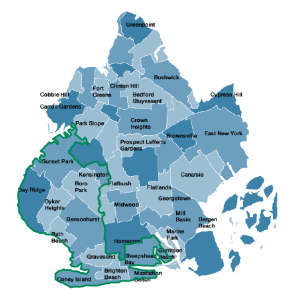 Investment sales in the southwest Brooklyn submarket are on pace to grow by 57 percent in terms of the number of buildings sold and 119 percent in dollar volume this year, according to a new monthly report set to be released this week by Massey Knakal Realty Services.
While neighborhoods like Sunset Park, Bensonhurst, Bay Ridge and eight other areas within southwest Brooklyn don't receive the same hype as other areas such as Williamsburg or Downtown Brooklyn, the southwestern portion of the borough have accounted for 25 percent of the total buildings sold and 18 percent of the total sales figures for the borough, figures from the report say.
"All of the focus is being concentrated in North Brooklyn and Downtown Brooklyn; a lot of people forget there are other parts of Brooklyn," said Adrian Mercado, Massey Knakal's vice president for research, adding that the growing Asian-American populations of Sunset Park and Bensonhurst have spurred Asian investments in the area. "It's a really interesting thing to see these middle class enclaves remain middle class even though the demographics have shifted."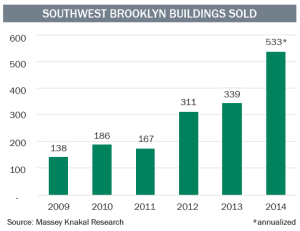 While the two neighborhoods will only boast 15 potential development site sales out of the two areas' projected 181 assets sold this year, the 15 sales represent a 200 percent increase from 2013 and a 400 percent increase from 2012, the report predicts. The overall Southwest Brooklyn area will see the number of buildings sold rise to 533 from 339 in 2013 and the dollar volume grow to nearly $1.6 billion from $729 million in 2013, according to the report.
Large-scale developments at Industry City, Brooklyn Army Terminal and Liberty View Plaza are inspiring additional projects in Sunset Park like the four-tower mixed-use complex that Chinese developers have planned for 6208 Eighth Avenue after buying up the property for $51.5 million earlier this year, Mr. Mercado noted.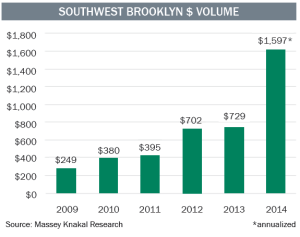 On the small-scale development side, investors are ponying up more for simple six-family apartment properties in Sunset Park too, said John Brennan, a Marcus & Millichap broker who works in Sunset Park and Bay Ridge. Average prices for a six-family apartment building have grown from around $1 million last year to nearly $1.2 million this year, Mr. Brennan estimates.
"Now you're regularly seeing these buildings that change hands at prices that don't make sense on paper; it's basically a land grab," Mr. Brennan said. "There's been more and more demand from investors that have been priced out of Park Slope."