NYC Real Estate is Still the Safest Bet for Foreign Investors
---
---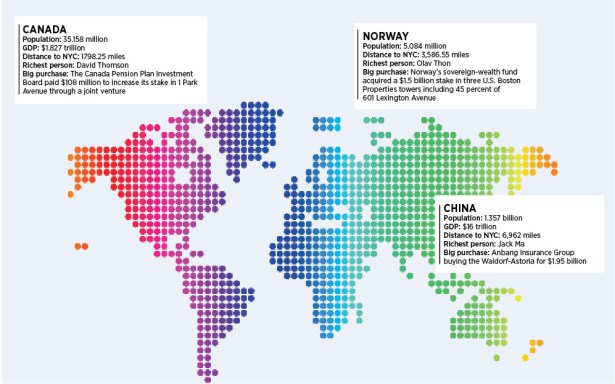 Last month the landmark Waldorf-Astoria's owner Hilton Worldwide Holdings announced that it was selling the grand hotel to the Beijing-based Anbang Insurance Group for $1.95 billion. Hilton said it would retain a 100-year management contract at the hotel and the property would be renovated.
The purchase, slated to close on Dec. 31, marks the first real estate acquisition in the U.S. by Anbang, which is reportedly planning an initial public offering that could raise about $2 billion.
Norman Sturner, the president and chief executive officer of MHP Real Estate Services, said the Waldorf deal was about getting money out of China and "burying it in America," while speaking on a panel, moderated by this reporter, at the NYC Real Estate Expo this month.
Mr. Sturner also said he recently heard about Iraqi and Ukranian money coming to New York. He later explained to Commercial Observer that MHP received calls "from two separate investment advisers purporting to represent both of those countries seeking opportunities in New York City real estate" when it was announced that his company was part of a joint venture buying 180 Maiden Lane for $470 million.
Foreign money being poured into New York City trophy assets isn't a new phenomenon. As far back as the 1980s, the Japanese were making such big real estate plays in the U.S., said Phil Feder, a partner in the real estate department at international law firm Paul Hastings at an October media roundtable titled "Asia Outbound Investment in U.S. Real Estate." But the pace by which foreigners, especially the Chinese, are pumping money into the New York City commercial market has been steadily climbing.
"China's the big winner in terms of leading foreign investment lately in New York City," said Kenneth Weissenberg, a tax partner and co-chair of the Real Estate Services Group at EisnerAmper. "The central government in China I think is encouraging Chinese firms to invest overseas. The United States is a very stable environment, has strong currency, a strong real estate market and compared to prices in the rest of the world, what we consider expensive is a bargain."
Since January 2013, Asian buyers have spent $175 million on multifamily assets alone in New York, according to research from CBRE released last month.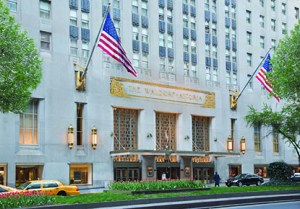 At the end of last year, JPMorgan Chase & Co. sold 1 Chase Manhattan Plaza to China's Fosun International for $725 million. And Hong Kong-based Jynwel Capital and the Witkoff Group teamed up to purchase the Helmsley Park Lane Hotel from the Leona M. and Harry B. Helmsley Charitable Trust for $660 million. Other deals of note within the last year include Forest City Ratner signing a contract to sell a majority stake in Atlantic Yards, recently renamed Pacific Park Brooklyn, to Shanghai's largest state-owned developer, Greenland Holding Group. Early this year, China Vanke, the largest residential real estate developer in the People's Republic of China, Hines and RFR Holdings broke ground on a 61-story residential condominium at 610 Lexington Avenue between East 52nd and East 53rd Streets.
While China has emerged recently as one of the most active groups of real estate buyers in New York City, the largest investor in U.S. property is actually Canada across all asset classes, according to a number of sources. And that's been the case for a number of years. This summer, the Canada Pension Plan Investment Board paid $108 million to increase its stake in 1 Park Avenue through a joint venture with Vornado Realty Trust. Norway has become the second most active foreign buyer of U.S. real estate, Bloomberg news reported.
Norway's sovereign-wealth fund, the world's largest such fund, acquired a $1.5 billion stake in three Boston Properties towers in the U.S., including a 45 percent stake in 601 Lexington Avenue, formerly known as Citigroup Center, in September, the publication noted. At the beginning of the year, it was reported that Singapore'S GIC Pte Ltd., a sovereign wealth fund of the Government of Singapore, partnered with Abu Dhabi Investment Authority and the Related Companies to purchase 1.1 million square feet of office space in the Time Warner Center for $1.3 billion.
Why so much interest in New York City real estate from these foreign investors?
Fred Berk, a partner and real estate leader at Friedman LLP, described New York City as "a safe haven."
David Mond, a managing partner of New York City CPA firm Adelman Katz & Mond, noted: "There's been an increase because of the uncertainty throughout the world. Off-shore investors want to park their money for the stability of the U.S. economy. People rag on it, but that's why people want to invest here."
Other reasons for investing in New York City properties vary.
"Sometimes it's kids here in the U.S. for school, sometimes it's just for investment and sometimes it's a safety net against currency and turmoil in home states," said Maury Golbert, the chair of Berdon's Real Estate Services Group. To meet the growing demands of its foreign clients, Berdon, an accounting and advisory firm, recently started marketing its offshore services as "Business Management for Offshore Owners of U.S. Real Estate."
Rob Gilman, co-chair and partner of the real estate practice at Anchin, Block & Anchin, said that people in a lot of other countries would rather "overpay here" than keep their money in their own country. Mr. Gilman handles syndicated deals in which overseas buyers forge partnerships with American entities for U.S. real estate purchases.
Returns are not the focus of many of these acquisitions.
"Given the low cap rates that some of these investors have been purchasing properties for, returns are secondary to them," said Ryan Dudley, a partner and leader of the International Services Group and International Tax Practice at Friedman LLP. "They want to invest a portion of their wealth in a jurisdiction that provides them with safety of their principal along with long-term earnings and capital appreciation potential."
When it comes to Asia, the recent relaxation on the insurance companies has allowed for them "to expand their investment in growth data in foreign countries," said James Han of Paul Hastings at the media roundtable. Also, the Chinese government is now encouraging Chinese companies to invest abroad, and Chinese people are incentivized by the EB-5 immigrant investor program, which grants foreign investors green cards in exchange for job-creating investments of at least $500,000 in the U.S.
The barriers to entry for foreigners investing in U.S. real property relate to U.S. tax issues rather than issues in their home countries, a couple of accounting experts said, as most countries do not impose capital gains taxes.
"For most countries in the world, a sale of assets does not generate tax on the capital gains, but in the U.S. gains are subject to tax," Mr. Weissenberg said. "For an overseas investor in the U.S., U.S. taxes can be a significant barrier."
Despite any hurdles, foreigners are not losing steam in purchasing New York City real estate any time soon.
"Historically, larger and institutional foreign buyers have been very comfortable purchasing Class A commercial office buildings and we see that trend continuing," said Adam Lazarus, a CPA and partner at Citrin Cooperman. "However, we do recommend diversification within the market and expect to see more activity in the multifamily and retail areas as well."