Maritime Law Firm Signs Five-Year Lease at 555 Fifth Avenue
---
---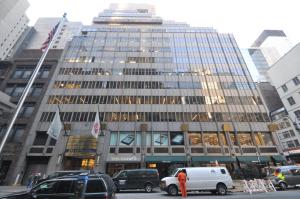 Maritime law firm Brown Gavalas & Fromm is moving to 555 Fifth Avenue, the building's landlord announced in a press release.
The firm signed a five-year lease for 4,031 square feet on a portion of the third floor of the property, located at the southeast corner of East 46th Street. It is expected to relocate from its current office at 355 Lexington Avenue, between East 40th and East 41st Streets, in the coming weeks.
The 20-story, 206,378-square-foot building on Fifth Avenue is owned by ATCO Properties & Management.
"Our building is in a prime location right on Fifth Avenue just steps from major transportation hubs, several subway lines and some of the best retail and restaurants in Midtown," said Kate Goodman, a co-president at ATCO, in prepared remarks.
Peter Goldich, a managing director of ATCO Brokerage Services, represented the landlord in-house in the transaction. Greg Taubin, an executive managing director of Savills Studley, represented the tenant in negotiations. The asking rent was in the $60s per square foot. A Savills Studley spokeswoman didn't immediately respond to a request for comment from Mr. Taubin.
Brown Gavalas & Fromm also did not immediately respond to a request for comment.
Other tenants at 555 Fifth Avenue include Nicoletti Gonson Spinner, Warshaw Burnstein, CW Financial Services, Global Excess Partners and Wichcraft.