Council Committee Approves Astoria Cove Mega-Project
---
---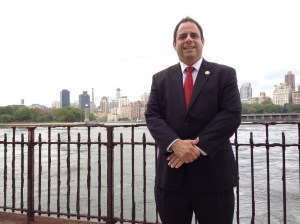 The massive Astoria Cove project is a major stride closer to launching—as is long-proposed ferry boat service for the Queens waterfront area.
After months of negotiating and hours of backroom deliberation, the City Council's powerful Land Use Committee today stamped its approval on the controversial 1,700-unit luxury development—permitted that it set aside 468 units for low- and middle-income tenants, hire unionized construction workers and building staff, include a co-operative supermarket, pay for improvements to local parks and a senior center and commit $5 million to the construction of a ferry dock.
"I am happy to say we have an agreement here at Astoria Cove that truly integrates this development into our community," said Councilman Costa Constantinides, who represents the area where the development will take place, but does not sit on the Land Use Committee. "This deal is historic and we've changed the way development happens."
To continue reading, click here for the New York Observer story.