Construction Firm Relocates to 55 Water Street
---
---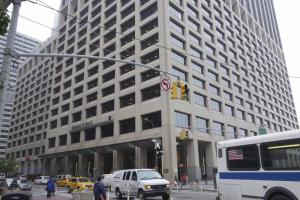 Hunter Roberts Construction Group, a construction services firm that works throughout New York, New Jersey and Pennsylvania, has signed a lease at 55 Water Street, Commercial Observer has learned.
The company will relocate from its current home at 225 Liberty Street at the World Financial Center in Lower Manhattan to a 37,000-square-foot space on the 51st floor of the Class A office building. It plans to move next month.
Because Hunter Roberts signed a sublease from law firm Sullivan and Cromwell, the building's owner, New Water Street Corporation, was not involved in the transaction except for approving the sublease. Cushman & Wakefield's Ross Eisenberg and Stuart Romanoff represented Hunter Roberts in negotiations. Savills Studley's Marc Shapses, Ira Schuman, William Montana and Oliver Petrovic represented Sullivan and Cromwell.
"The World Financial Center has served us well over the past 10 years, but as we embark on our second decade in business we thought this was an opportune time to relocate, expand our office space and start out in a fresh space that reflects our culture of innovation," said James C. McKenna, Hunter Roberts' president and chief executive officer, in prepared remarks.
Hunter Roberts will celebrate its 10th anniversary in February 2015
The company's new office space is designed by The Switzer Group, which has incorporated sustainable features throughout the floor plan. It also includes views of the East River and the Brooklyn skyline.