Brooklyn Expert, C&W's Glenn Markman Dies
---
---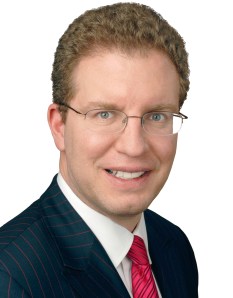 The Real Esate Board of New York held a moment of silence this afternoon for Glenn Markman at its members' luncheon. The Cushman & Wakefield broker died today after a battle with cancer, at 52.
He suffered from stomach cancer for the last six to seven months.
"Glenn Markman is a special man," said Bruce Mosler, the chairman of global brokerage at C&W, in a prepared statement. "When Glenn joined Cushman & Wakefield I was the CEO and from day one I knew he was a difference maker, a team player and a leader. As I made my return to brokerage, Glenn and I were hired by the Brooklyn Nets to find the team an appropriate location, including for them to build a state-of-the-art practice facility. Mr. Brooklyn immediately took control and, largely because of his passion for and knowledge of the borough of Brooklyn, Glenn found the team the perfect location in Industry City. The joy of working with my friend so closely these past several years and the privilege of working with this 'gentleman broker' has been inspirational."
Most recently, Glenn, with his wife Jan and other partners, launched BKLYN1834, a platform for accelerating the careers of artists and incubating the communities that organically form around them. The company, located in Industry City, helps artists engage their audiences and expand their digital reach.
Of his 28 years as a broker, Markman spent the last 12 years at C&W. Known as an expert in the Brooklyn office leasing market, Mr. Markman closed some high-profile deals including representing Spike Lee in finding a Dumbo office for the film director's advertising company, Spike DDB, in 2008, as Commercial Observer noted in a 2012 power broker featuring Markman. Also that year, he led a C&W team that brought the Nets into 35,000 square feet at 15 MetroTech Center in Downtown Brooklyn.
"Brooklyn is igniting this incredible passion from creative companies in Manhattan," Markman, a Bensonhurst native, told Commercial Observer two years ago. "Brooklyn buzz combined with scarcity of space and increasing rental rates in areas like Midtown South are pushing more companies to come to the borough and providing the opportunity for the area to land blue-chip creative firms."
Markman is survived by his wife of 21 years, Jan Testori-Markman, their son Clio, a sophomore at the College of Holy Cross, and daughter Edie Ray, a junior at Trevor Day School.
Funeral arrangements are still being worked out.