9.6% vs. 11% – Midtown Avenues vs. Side Streets
---
---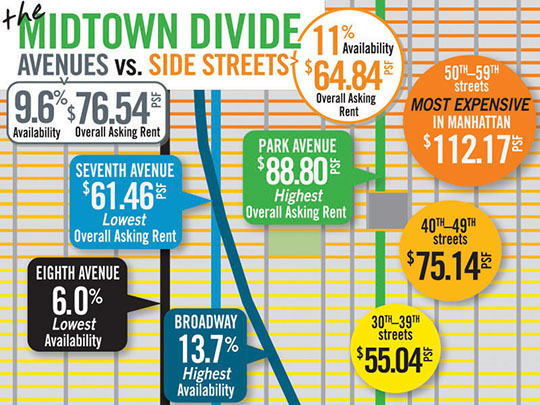 The Midtown office market has performed well over the past 12 months, as its availability rate dropped 140 basis points to 9.9 percent. Class A asking rents are up 7.6 percent to $83.07 per square foot and Class B asking rents are up 6.1 percent to $60.42 per square foot. Since Midtown is the biggest of Manhattan's major markets taking these statistics as-is only demonstrates the overall trend. Sometimes, delving into the statistics on an avenue-by-avenue basis or based on side streets can tell a lot more.
The availability rate for Midtown's side street buildings is 140 basis points higher at 11 percent when compared to avenue buildings only, which has an availability rate of 9.6 percent. Overall asking rents are higher for avenue buildings, averaging $76.54 per square foot, an $11.70 difference when compared to side street buildings which average $64.84 per square foot. 
Examining the avenues from Third Avenue to Eighth Avenue, Park Avenue has the highest overall average asking rent at $88.80 per square foot, while Seventh Avenue has the lowest asking rent at $61.46 per square foot. The Broadway corridor is the weakest of the major avenues, as its availability rate stands at 13.7 percent, substantially higher than the Midtown average. Along Eighth Avenue is where on
e can find the least amount of available space, with a low availability rate of only 6 percent.
Assessing the side streets in Midtown, the area between 50th and 59th Streets is the most expensive in Manhattan, with an average asking rent of $112.17 per square foot. The other two side-street corridors are considerably cheaper, as 40th to 49th Streets averages $75.14 per square foot and 30th to 39th Streets comes in at $55.04 per square foot. Not surprisingly, the 30th to 39th Streets area has the lowest availability rate of the side streets at 10.5 percent. This is mostly due to Midtown South tenants facing historically high rents and migrating to less expensive side street buildings in the 30s.
Richard Persichetti is vice president of research, marketing and consulting at Cassidy Turley.