With New Office, Greycroft Partners Brings Downtown Cool to Midtown
---
---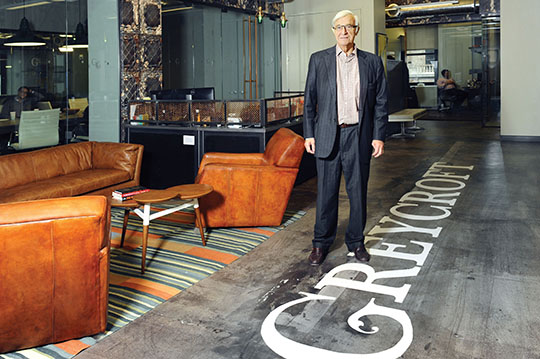 When Alan Patricof, the managing director of Greycroft Partners, was looking to lease space for his technology oriented venture capital firm, he was laser-focused on finding an office in a hip Manhattan neighborhood with a Silicon Valley vibe.
Read: Downtown.
But after searching for five months, Mr. Patricof had come up short, deterred by skyrocketing rents and poorly-planned spaces.
"We would have preferred to be Downtown with all of the exciting new start-ups in our portfolio," said Mr. Patricof. "However, in light of costs and logistics the alternative was taking an attractive Midtown space and creating a dynamic environment and design similar to a Downtown loft space, which was a very appealing option."
So Mr. Patricof decided he would bring Downtown cool to Midtown. He signed a seven-year lease for 6,035 square feet on the 20th floor of 292 Madison Avenue, a building owned by the Marciano brothers of Guess jeans renown. The Marciano brothers had committed themselves to attracting TAMI (technology, advertising, media and Internet) tenants, including Borderfree, IDG TechNetwork, Exponential Interactive, Qlik Tech and Raptor Trading.
"This story is how Downtown tech can be Uptown," said Mr. Patricof, whose previous office was on 57th and Madison, not known to be a TAMI stronghold. Greycroft uses its office to meet with New York-based tech start-ups, as well as tech entrepreneurs from around the country and across the globe.
Mr. Patricof can be a bit prickly, and veers dangerously close to reciting his resume when he suspects you might not know that he is the founder of New York magazine, an early investor in Details magazine and the Huffington Post, and an important early advisor to America Online, Office Depot and Apple Computer. Perhaps that's not a particularly surprising streak of vaingloriousness, coming from someone who hangs a Chuck Close portrait of Internet inventor Al Gore as the centerpiece in his office.
But identifying opportunities where others don't see them is a skill of great value to early-stage investors. And to real estate shoppers. With its high ceilings and flexible layout, Mr. Patricof correctly identified that the space held tremendous potential to be converted from a drab corporate office to a cutting-edge interior.
Upon signing the lease, Mr. Patricof promptly directed that the space be gutted; he had already enlisted Kemble Interiors' Celerie Kemble and Heidi Bianco to help Greycroft achieve its desired look. Mr. Patricof had seen the company's work in the Dominican Republic, and felt inspired by their vision.
"We first thought of those old Soho factory lofts with their raw wood plank floors, tin ceilings and creaky old enamel pendant lights, and brought elements of that to the Madison Avenue office space," said Ms. Bianco.
Once demolition began, the designers took off, with the aim of creating an energizing and character-filled workplace for the tech-focused office team.
"We chose to leave the ceiling open to reveal the metal ductwork and to polish the existing slab concrete floors," Ms. Bianco added. "Their distinct wear of scratches and swirly ground down details were authentic and hardy."
The designers opted for oak and raw iron work stations instead of chrome and laminate. Unlacquered brass was used for door hardware and aged saddle leather was utilized on vintage club chairs.
The designers, who had previously worked primarily in residential spaces, found the challenge of reconfiguring the office space exhilarating.
"We enjoyed several trips out East to various Hampton antique shops and many 'Olde Good Things' visits in the city," Ms. Bianco added.
Harry Krausman, a managing director and principal at Cassidy Turley, has worked with Mr. Patricof for roughly 30 years. Their conversations are filled with the sort of shorthand that befits a long, successful partnership, where one need only say the numbers and the other gets the reference—if Mr. Patricof says "598," Mr. Krausman knows they're talking about 598 Madison Avenue, where Greycroft used to be.
Mr. Krausman told The Commercial Observer that TAMI tenants migrating to the greater Grand Central area "is not only geographic specific. It's building specific."
| | |
| --- | --- |
| "We first thought of those old Soho factory lofts with their raw wood plank floors and tin ceilings." | |
"For example, 292 Madison in its prior iteration was never focused on attracting tech companies or creative companies," said Mr. Krausman. "But the current ownership is approaching it in that way."
Mr. Krausman also cited online advertising firm Collective's move to the old New York Times building at 229 West 43rd Street, a property that is also home to Yahoo and IAC.
Another benefit of being in an established Midtown office is the amenities that are lacking in downtown's grittier industrial spaces.
"What [Alan] was able to do was create the feeling of being down on Hudson Street or Flatiron in these older, industrial-type buildings, but being with a good landlord and having all of the services," said Mr. Patricof. "Cleaning is included. You've got a doorman downstairs 24 hours."
All this, for a relative bargain. Mr. Krausman noted that asking rents in the Grand Central area hover in the mid-to-high $60s per square foot, depending on the floor.
Rents in Silicon Alley, the epicenter of New York's tech scene, often run into the mid-$80s per square foot, plus another $2 for cleaning services.
Said Mr. Patricof of the Uptown migration of tech, "it's inevitable. The rents are getting so crazy Downtown."
Even as Mr. Patricof completely transformed his dowdy Midtown space into a cutting-edge environment that would be perfectly believable in Soho or even Dumbo, there's only so much disruption a fellow who made his bones long ago is willing to stomach. When the Commercial Observer asked him if he'd considered Brooklyn after striking out Downtown, he said it was literally a bridge too far, after having worked in Midtown for decades.
Ultimately, Mr. Patricof's plan for achieving a Downtown space worked.
"I'm a very happy tenant," he concluded.