Williamsburg Rental Project, 10 Years in the Making, Gets Takeout Loan
---
---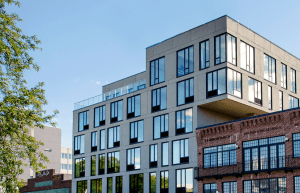 Witold Brend of Brend Development Corporation, the owner of a 53-unit Williamsburg luxury rental development, has secured a $26.5 million permanent take-out loan against the newly minted building, Mortgage Observer has exclusively learned. 64 Bayard Street, which sits just off McCarren Park, hit the market last December.
The 53 units, which include six penthouses, are fully occupied, said a source close to the deal.
The seven-year, non-recourse loan was provided by Investors Bank and has a 3.5 percent interest rate, the source said.
Eastern Union Funding brokered the loan, a representative for Eastern Union confirmed. The firm had also brokered the $21 million construction loan for the project, which Brend Development first began mulling ten years ago, according to published reports. Nate Hyman and David Metzger arranged the loan.
Though a take-out was built into the original construction loan, the low-interest-rate environment prompted the owner to seek a new loan with the same lender, and substitute it for the earlier-negotiated mortgage, according to the Eastern Union brokers.
"The market is stronger now and the performance of this building is an illustration of that," Mr. Hyman said. "We essentially rebuilt the financing accordingly."
An Investors Bank representative did not immediately respond to a request for comment; no number for Brend Development was listed.