Wells Fargo Subleases For New ATMs in Times Square Station [Updated]
---
---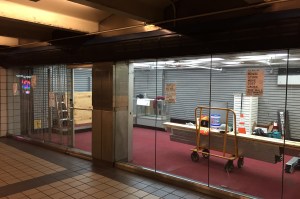 Wells Fargo bank will open its second ATM area in the Metropolitan Transportation Authority's Times Square-42nd Street Station through a 485-square-foot sublease until August 2017 for a retail storefront beneath Eighth Avenue near West 44th Street that will net the agency an annual rent of $24,400, MTA officials said.
The bank with over 12,000 ATM locations nationwide and an existing one elsewhere in the bustling station in a corridor near West 42nd Street and Broadway, according to the firm's website, subleased the space from One Stop Music, a music, DVD, video games, luggage, posters and electronics store that moved to a 600-square-foot space across the hall, said store owner Adam Chowdury.
"The music store I had over there for 18 years," said Mr. Chowdury, who noted he relocated his small retail shop where upbeat music lures passing hordes of commuters and tourists six months ago.
Neither Mr. Chowdury nor the MTA referenced any brokers involved in the sublease deal. Wells Fargo will add two ATMs in the storefront area, said bank spokesman Kevin Friedlander.
"Times Square is such a busy station in the heart of the city where not only our New York customers pass through each day but also those from around the country," Mr. Friedlander wrote in an email. " I can't think of a more convenient location to place one of our technologically advanced ATMs."
Workers have installed a construction shed that's currently covering the future site of the ATM but there's "no time frame" for opening the ATM, an agency spokeswoman said.
The Times Square-42nd Street Station, which services 10 different subway lines, represents the busiest stop in the 468-station system, with 197,696 riders passing through on weekdays and over 63.6 million straphangers during 2013, according to MTA figures.
Update: This story has been updated with a quote from a Wells Fargo spokesman.