The Plan: 140 William Street
---
---
At the start of the current school year last month, Pace University unveiled the second phase of its renovation project at Pace Performing Arts' home at 140 William Street.
Plans included the conversion of the seventh floor and penthouse into a design studio, sound studio, mechanical and electrical equipment rooms and a rooftop terrace for special events.
While the roof is simply an open space with pavers, what it offers is a nice view of 1 World Trade Center, said Bill McGrath, a senior vice president at Pace who oversees the school's real estate projects.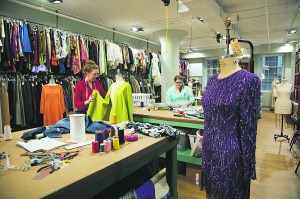 "It's not about what's on the space," Mr. McGrath said. "It's more where it is and what views you have when you have an event."
In 2011, Mr. McGrath said the school signed a 20-year lease for Chris Soukas' entire 47,200-square-foot building at the corner of Fulton Street.
The second phase of the renovation, designed by Graf & Lewent Architects, cost $1.85 million and took nearly a year to complete. The first phase, designed by SNS Architects & Engineering, cost $6 million. It called for a complete gut renovation of the rest of the concrete and masonry building with existing office space being converted to studio classroom spaces, two black-box theaters, four dance studios, a soundstage, a screening room, a digital design lab, a scene shop, a costume shop, drafting studios and other multi-purpose training spaces. The construction lasted from October 2011 to December 2012. Funds for the $7.85 million project came from the school's capital program.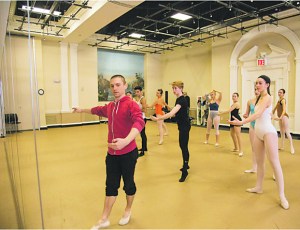 "This is one of my favorite projects in seven years at Pace," Mr. McGrath said. "There are always people using the building. It's high energy." Indeed, 600 students are registered in the performing arts program.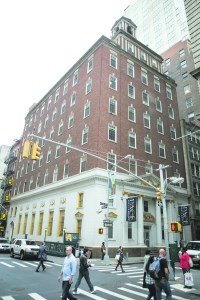 A former bank building, 140 William Street still retains its old bank feeling.
"It's just an obvious old bank," Mr. McGrath said, noting the two white columns flanking the entrance doors on the William Street side.
Also harking back to the bank days, the first-floor dance studio has on its walls two of the bank's original murals. And, the entrance to the studio, below the exit sign, is the location of the former bank entrance.