Daten Group Buys Vacant Clinton Hill Gas Station for $7.4M
---
---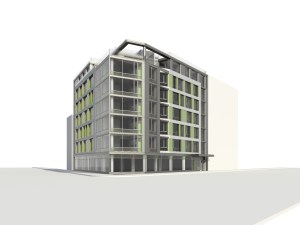 An affiliate of New York City developer The Daten Group has purchased a vacant gas station at 840 Fulton Street in the Clinton Hill section of Brooklyn for $7.4 million, Commercial Observer has learned. The developer plans to build a seven-story, 40,000-square-foot building on the lot, with 38 residential rental units, 20 percent of which will be affordable.
The seller of the 6,724-square-foot property, which is at Vanderbilt Avenue, is Fulvan Realty LLC, a long-term owner of multiple gas stations in the area. The deal, which closed on Sept. 30, included 3,464 square feet of air rights from the neighboring property at 848 Fulton Street, according to a spokeswoman for the Daten Group.
KBA Architects has been tapped to design the building. There will be roughly 5,000 square feet of retail space at the project, which is estimated to cost $20 million. Construction is slated to commence in early 2015 with a completion date of March 2017.
Vibe Living, the Daten Group's rental management company, will manage and market the property and Douglas Elliman will conduct the initial lease-up campaign. The Daten Group isn't sure which brokerage will market the retail portion yet.
"There is a tremendous demand for residential in this area," said Craig Rosenman, director of acquisitions for the Daten Group, in a prepared statement. "With its close proximity to public transportation into Manhattan, this site will be highly desirable for both residential and retail tenants."