TAMI Tenant Signs at 381 Park Avenue South
---
---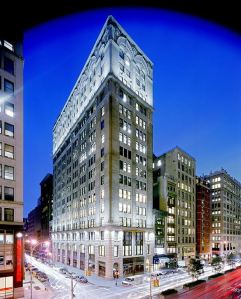 Technology firm RW-3 has signed a seven-year lease for space at 381 Park Avenue South, Commerical Observer has learned.
RW-3 will move from its current location at 55 Fifth Avenue to its new home, where it will occupy 2,303 square feet of space on a portion of the building's 10th floor. The building, an art deco property owned by ATCO Properties & Management, sits on the southeast corner of East 27th Street and was constructed in 1909.
"We're delighted to welcome RW-3 to our building, which is conveniently located between Madison Square Park and all major transportation hubs," said Kate Goodman, co-president of ATCO, in a prepared statement.
ATCO Brokerage Services' John K. Lord represented the landlord, while Capstone Realty Advisors' Jarad Winter represented RW-3. Asking rent was $55 per square foot.
Other tenants in the building include fabric company Source360, New York law firm Goldstein, Rikon, Rikon & Houghton and tattoo removal practice Tataway.
RW-3 plans to move into its new space sometime this fall.