Report: Investment Sales on Pace to Break Record
---
---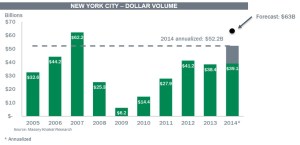 Almost 1,100 investment sales in the third quarter of the year netted a collective $11.3 billion in New York City, adding up to a total of $39.1 billion for the year so far as 2014's sales totals eclipse those of 2013 with one quarter still remaining, according to a quarterly report released today by Massey Knakal Realty Services.
Even though this quarter's volume and sales figures represent smaller sums than the last quarter's, the breakneck pace would equal a robust $63 billion for the year if the sales keep up through the fourth quarter, said Massey Knakal Chairman Bob Knakal.
"That would set an all-time record for the city," Mr. Knakal said at a press conference announcing the report's findings.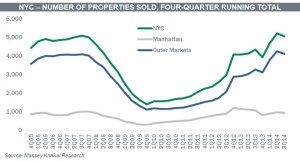 The average price per buildable square foot has increased by 25 percent to $240 per buildable square foot from $192 per buildable square foot in 2013, the report says. And although Bronx prices have depreciated by 1 percent this year, Northern Manhattan's expected turnover rate of 6.9 percent of the building stock this year represents the highest ever rate in any submarket, according to the report. Figures such as the fact that the first three quarters of the year have seen higher dollar volumes in outer markets than the total volume for each of the past nine full years reflect the strength of both that section of Manhattan and the non-Manhattan boroughs, Mr. Knakal said.
"You see a huge push in the outer boroughs," Mr. Knakal said. "There are a number of neighborhoods in Brooklyn and Queens that are rivaling Manhattan in terms of value."