Q&A: Robert Lieber, Chairman of the Urban Land Institute of New York
---
---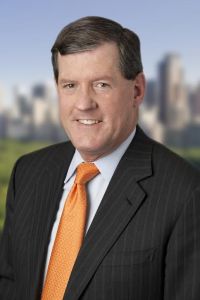 When Robert Lieber is not focused on his work as the executive managing director of Island Capital Group in New York City, he serves as the chairman of the Urban Land Institute of New York, a real estate organization focused on ensuring responsible land use and fostering sustainable growth. He is also also no stranger to private-public partnerships, having served as deputy mayor for economic development in the Bloomberg administration. 
Later this month, Mr. Lieber will welcome more than 7,000 guests to the Javits Center for the 2014 ULI Fall Meeting, perhaps his most high-profile assignment since taking the helm of the organization in July 2013. Mr. Lieber spoke with Commerical Observer about ULI, his vision for its future and the upcoming event that will bring together some of the most prominent names in the industry. 
You've been involved with the Urban Land Institute for many years. Did you always plan on becoming the chairman of the Urban Land Institute?
 The answer to that is no. I've been a member of ULI for more than 20 years, and the aspiration to be the district council chair was never on my list of priorities. When I got more involved in ULI and I went off into the public sector for many years, I realized the private sector can play a role to shape public policy more so than I had ever recognized before. This is a role that has evolved over time. Key components of what ULI can do includes bringing an independent group of professionals to the table to shape land use decisions at the local level. I see the importance of this having spent four years working in city government. Some of the decisions government makes are done somewhat in a vacuum. Sustainability, resiliency, affordability, housing and zoning are all important issues that shape the complexity of our regional markets. It is important that the private sector be represented because it helps the public sector decision makers and policy makers make plans that reflect the consensus of the community.
What do you hope to accomplish as Chairman of ULI?
Overall, I want to ensure that key constituencies in both the public and private sectors understand that we are a proactive advocate for the responsible use of land. I hope to enhance ULI's value proposition and ensure that people recognize our relevance across all aspects of urban development. We also need to continue to be responsive to the needs of the stakeholders in these communities.
What do you think Urban Land Institute's biggest contributions are to the City of New York? To the nation?
I think the competitive advantage, or role, of ULI is to be a interdisciplinary real estate organization that brings people together to discuss major issues. We do this in a number of different forms and ways. We are a convener of groups of people with varied and special interests who can come together to have an open and candid conversation about obstacles and getting things done. We are pro-responsible development, pro-growth and pro-economic development. But how do you do this and respect the unique nature of the environment that we live in? That is vitally important.
So we serve two major functions. We are a networking group that allows real estate professionals to get to know each other and help each other from a business perspective. But also over time, the reach of ULI has been more impactful at the local levels. I have served on several advisory panels. For example, the Downtown Alliance, Community Board 1 and the Port Authority brought ULI together downtown and asked how are we going to address what's going on at the World Trade Center. It's been three or four years since 9/11, and there hasn't been much progress on the site. How do we unlock this to get this moving? We had major real estate owners from around the world, planners, architects.
I also served on an advisory panel in 2005 after Hurricane Katrina whacked New Orleans. We spent a week down there working with the mayor's office asking what happened, what do we do now and how do we prevent this from happening again? I also participated on a panel to address the outcomes that happened in Superstorm Sandy.
Working with communities, bringing together experts and designers and making recommendations are the types of initiatives we undertake to help make a difference. City governments find this very helpful, having an independent source of experts who are knowledgable about the business but are not part of special interest groups lobbying for their own interests and objectives.
There seems to be a shortage of developable land left in Manhattan. How do you foresee development continuing both here and in the outer boroughs?
I think it's changing uses and changing densities. If we're going to continue being a viable and sustainable economic area here, we need to be smart about how we accomodate future growth. There are estimates that the city will add an additional one to two million people. There are issues to address around transportation, sustainability and critical issues about where we want to continue to build. We need more density to accomodate this kind of growth.
I think development in the outer boroughs will be centered around where the transportation is. Where does the MTA choose to put more stops? Where are there stops that are underutilized? The question will be how to increase density around these locations. You don't want to build around areas where there's no mass transit.
You were a member of the Bloomberg administration, though focusing on economic development. How do you think New York City's real estate landscape is different after 12 years of the former mayor's tenure?
I think we've opened up some new sites to accommodate growth. Look at the Hudson Yards development. Sixty million square feet of space will be developed over the next several decades. The lynchpin in that development project is the creation of an additional mass transit stop. The city paid for that subway extension, not the MTA, because it was good for the real estate tax base. It promotes responsible growth.
I think at the end of the day, we won't know the effects of the the decisions we made in the last administration for decades. Policy decisions don't necessarily have an immediate impact. Our strategy then was that we felt that the public sector's responsibility was to plant the seed for development. Hudson Yards is a quintessential example of that. Downtown Brooklyn, Willets Point in Queens, Lower Manhattan, Harlem's 125th Street are also examples of city leading and support efforts of the private sector to follow.
How do you think Alicia Glen is doing as Mayor de Blasio's Deputy Mayor for Housing and Economic Development? What do you think the biggest issues are that she's facing?
I think she's off to a good start. We want to make sure the economic development wave is developed and allocated across the city. Affordable housing is a big part of the mayor's agenda. Two-hundred thousand new units is a very ambitious goal, but you've got to aim high to achieve anything. The [administration] has been clever, resourceful and creative in focusing on communities that have the capacity and the need to grow.
The ULI Fall Meeting is quickly approaching at the Javits Center, and you're expecting roughly 7,000 attendees. What are you most excited about hosting this massive event?
I think this is a terrific opportunity to put the spotlight on New York City. In my opinion this is the greatest city in the world, and it's been ten years since the ULI's Fall Meeting has been here. There will be a lot of comparing and contrasting of what has worked in terms of development. It's a great opportunity to highlight what we're doing, [including] the development of parks, the improvements in our transit system. These are all great things for people to see. We are particularly proud of the progress Lower Manhattan has made since 2004, when the World Trade Center site was just a gaping hole in the ground. I think it's a great showcase for New York City and activities that have happened in the past ten years.