Midtown's Transit Hubs Revamp Retail on Grand Central Model
---
---
The Metropolitan Transportation Authority shuttle train from Grand Central to Times Square delivers riders across Midtown in just two minutes, by Commercial Observer's watch. Yet the two vast hubs that hundreds of thousands of commuters and tourists stream through every day exhibit retail options as far apart as the 15,000-square-foot Apple Store on the east balcony of Grand Central Terminal and Adam Chowdury's 600-square-foot family music and electronics outlet underneath Eighth Avenue in the Times Square-42nd Street Station.
But that disparity between the retail at Grand Central and those at other bustling Midtown transit stops at Times Square, Penn Station and Columbus Circle won't last forever.
While complex, large-scale plans like Moynihan Station and upgrades at the Port Authority Bus Terminal grind forward, the TurnStyle development in a corridor between West 57th and West 59th Streets will open next year. Officials from transportation agencies and real estate firms are planning and implementing enhanced retail offerings at the hubs to tap into the foot traffic that sends hordes of potential customers by existing and future storefronts.
"Obviously retailers are looking for the right mix of traffic and people who are motivated to shop," said Jeff Rosen, the MTA's director of real estate. "We're trying to pick up what the retailers want and need at each location, consistent with keeping the traffic flowing the way it needs to flow."
And there's no question the traffic flows at these four stations.
Around 750,000 people pass through both Grand Central Terminal and Penn Station each day, and Times Square drew 197,696 subway train riders on weekdays in 2013, making it busier than any of the system's 467 other subway stations, according to the MTA. The bus terminal, which is connected to the Times Square station, is "helping 200,000 people a day get where they need to go," according to its website. And TurnStyle will benefit from the more modest but still impressive foot traffic figure of 80,000 pedestrians daily at Columbus Circle.
Despite the hustle and bustle of huge crowds, the sheer amount of people moving through creates retail opportunities at the large-scale transportation stations, a "long-underutilized asset," said Gene Spiegelman, a vice chairman of brokerage at Cushman & Wakefield.
"People want to get something when they're moving around," said Mr. Spiegelman, noting MTA's recent news that over 6.1 million customers rode the subway on Tuesday, Sept. 23 to set a new record. "You're moving quickly, you make decisions and you make purchases. The volume that you need to pick off to be successful is really a fraction."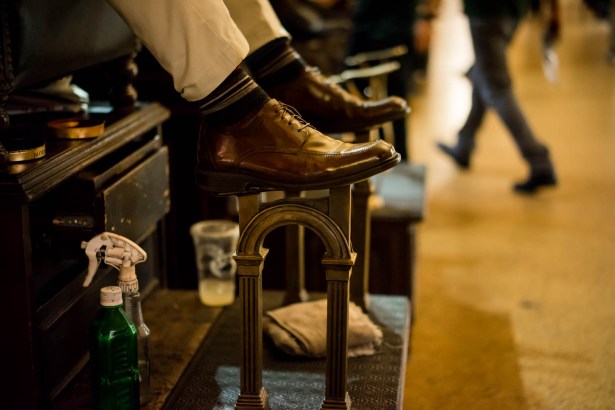 The MTA is moving forward with plans to enhance the retail around that foot traffic, with Grand Central as a prototype. Grand Central—where MTA completed renovations in 1998 to double the Metro-North and subway hub's retail space—can boast 150,000 square feet onsite, and nets the agency around $20 million in annual recurring operating revenues, Mr. Rosen said, noting that non-Grand Central retail operated by MTA brings in $30 million per year.
Both TurnStyle, the product of a competitive bidding process for a 30-year master lease of the 15,000-square-foot space, and the soon-to-be completed Fulton Center in Downtown, where master lessee Westfield Group is developing 63,000 square feet that is two-thirds retail and one-third office space, represent attempts to replicate the Grand Central experience, he added.
While MTA can't make ground rules for the Amtrak-owned Penn Station, the agency has coordinated the leases for the corridor of Times Square station storefronts between West 40th and West 44th Street under Eighth Avenue to expire at the same time ahead of a potential future round of master lease bids at those sites, Mr. Rosen said.
"With each success that we register in creating these kinds of transformed spaces, we hope to encourage people to take on similar projects," Mr. Rosen said. "But there are only so many spaces that lend themselves to that."
Grand Central's mix of architectural grandeur and appealing stores and restaurants fits that bill. The 1913 Warren & Wetmore masterpiece warrants its daily docent's tour from the Municipal Art Society with its sculptures from Greek and Roman mythology, a main concourse punctuated by a ceiling with gold star constellations painted on a turquoise sky and the familiar four-sided clock and old-school eating-and-drinking gems like the Campbell Apartment and the Oyster Bar & Restaurant.
Around 100 retailers woo customers in spaces like the diverse storefronts of Graybar Passage, Michael Jordan's steakhouse on the west balcony of the main concourse and the downstairs dining concourse. Business could grow even more on the site once MTA, which itself leases the terminal from a landlord group that includes Andrew Penson's Argent Ventures, completes the $10 billion Long Island Rail Road East Side Access project to connect 162,000 daily LIRR riders to Grand Central in 2022.
In the meantime, the agency and brokers from Newmark Grubb Knight Frank are considering 20 bids for two spaces on the dining level that are currently occupied by Two Boots pizza and Junior's restaurant, said Mitchell Friedel, an NGKF executive vice president.
"The sales per square foot for both the food and retail operations are incredibly high," said Mr. Friedel, who leads an NGKF team that recently beat out seven other applicants for the exclusive listing. "Whenever there is an availability, there's intense competition and virtually none of the tenants want to leave when their leases expire."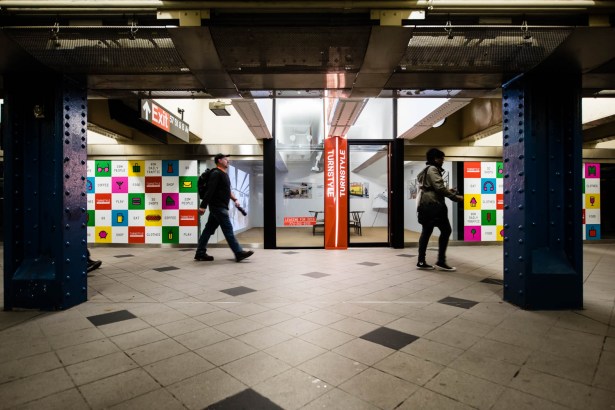 Former MTA real estate director Susan Fine, who helped plan and execute the Grand Central renovations during her tenure with the agency, hopes to create a similar dynamic with TurnStyle at Columbus Circle. Ms. Fine's Oases Real Estate has leased tenants like Magnolia Bakery, Dylan's Candy Bar and Joe Coffee for around 60 percent of the 30 subterranean shops that the firm is laying out in a sequence starting with grab-and-go stores near Time Warner Center that give way to a retail section around what will be the Nordstrom Tower and a food hall near the Hearst Tower, she said.
"What you try to do is mix, to create something that's sort of unexpected," said Ms. Fine, who noted the development is scheduled to open in the third quarter of 2015. "Your stores are always your stars; people now look at stores and shopping as an event."
Closer to the Midtown core, the Times Square station lacks such a unifying vision. The four-block hallway under Eighth Avenue features discount clothing stores, ATM's, Mr. Chowdury's One Stop Music and frequent religious orations and live performances. It doesn't have the cachet of its fellow transport hub across town. But, then, back in the 1970s, Grand Central had little to boast about other than its pedigreed architecture. It was a wasteland of vagrants and vandals, and there were some who wanted to tear it down. "We couldn't rent downstairs when we started," said Ms. Fine. "Nobody wanted to go down there." Plenty of skeptics had to eat crow in the wake of its transformation during the 1980s and '90s.
Already one can see how Times Square's fortunes could shift if MTA induces a developer to bring in a TurnStyle-like operation there and the Port Authority of New York & New Jersey completes the $90 million in capital spending for on-time service and customer-service upgrades scheduled for next year as a precursor to the Port's future "Midtown Bus Master Plan" for the site.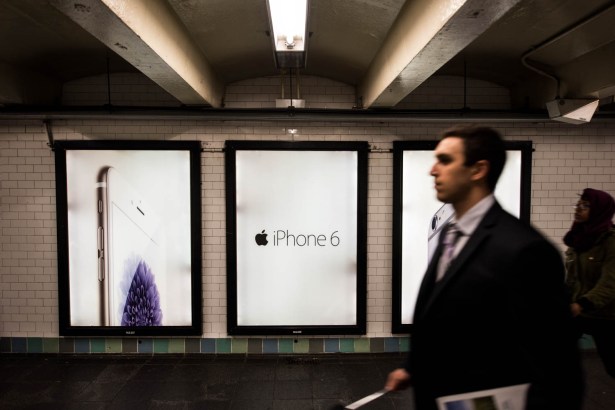 Mr. Chowdury, a 51-year-old father of two who says has been selling music, movies and accessories at the Times Square station for 18 years, detects the future changes at the MTA property after moving his business from one storefront to another on the corridor six months ago.
"The whole station is going to be good tenants—not like me, the big guys," Mr. Chowdury said behind the counter where he and his wife keep shop with only one part-time employee. But, he added, "In Grand Central, all the rich people are passing by. So the stores and everything are different than Port Authority and 42nd Street. Here it's average people."
Penn Station's retail carries a similar vibe, if only a more confusing one due to the interplay of multiple retail landlords like MTA, Amtrak and Vornado Realty Trust and swirling debates and speculation around the future of Madison Square Garden and Moynihan Station. Vornado, which operates leasing on the lower-level West 33rd Street passageway between Seventh and Eighth Avenues and next to LIRR trains through its nearby 1 Penn Plaza building, is reportedly planning to update the retail offerings where TGI Friday's, Kmart and shops to grab a quick bagel or slice on the go now predominate.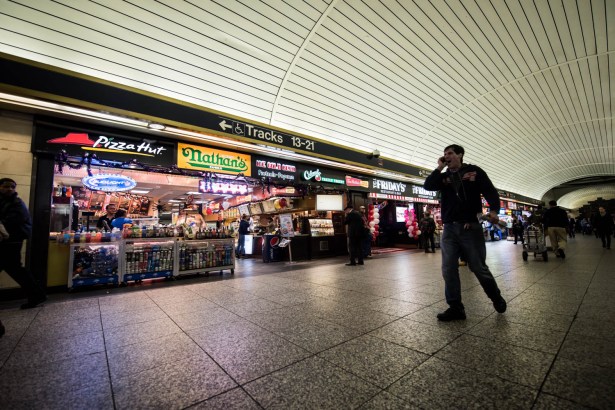 While representatives for Vornado declined to comment, Mr. Rosen of the MTA noted the agency only controls a few small spaces on the south side of the corridor and said Penn Station's retail would change "when we have significantly altered the physical conditions."
And, indeed, the change has been happening. Last year, James Dolan, the executive chairman of Madison Square Garden, ushered in a $1 billion renovation of the site. However, full funding to turn the state-owned and Empire State Development-managed Farley Post Office into a new retail and Amtrak office location centered on new outdoor and indoor entrances to Penn Station's platforms has yet to materialize. At this point, Moynihan's retail operations "have yet to be worked out," said Amtrak spokesman Craig Schulz in an email.
The national passenger rail corporation currently leases 29 retail spaces on the upper level concourse at Penn Station, which services its trains and those of LIRR and New Jersey Transit while sitting near the Port Authority's nearby PATH station. While Amtrak officials "believe there is room for improvement" in its retail in the short term, the train corporation is leading a study on Penn Station's future in partnership with MTA and NJ Transit, Mr. Schulz said.
"The study will provide a comprehensive roadmap for a phased series of improvements that will deliver a transformed Penn Station facility by 2035," Mr. Schulz noted. "These improvements will commence with a pilot program to unify signage and wayfinding throughout the station in 2015, and is expected to expand in scope in the years ahead."
So while some aspects of Grand Central's success will prove difficult, if not impossible, to replicate, below-grade retail in Midtown's transit hubs should sprout as anything but below-grade in coming years. Mr. Spiegelman, the C&W retail specialist, credits both Grand Central and Terminal 5 of London's Heathrow Airport for sparking a worldwide boom of retail at transit hubs. And Ms. Fine of TurnStyle also placed the matter in a global context.
"The real question is, if it's in other countries all over the world, why haven't we been able to do it here?" she said. "I think it's a fascinating question."