Meatpacking District 'Kiosk Hall' Opens
---
---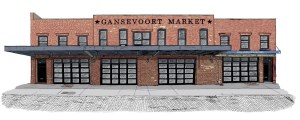 The new Gansevoort Market has opened in an 8,000-square-foot space at 52 Gansevoort Street in the Gansevoort Market Historic District.
"We're kind of running it like a mall," Chris Reda, whose company DAE Crew operates the market, told Commercial Observer. He added: "We're like a kiosk hall."
DEA Crew is a new lifestyle company formed by Mr. Reda, Robert J. Montwaid and Manny Del Castillo, with the market marking its first project. Mr. Reda is the operator of neighboring nightclub The Griffin, at 50 Gansevoort Street.
Home to the original historic Gansevoort Market in the mid-1800s, the new Gansevoort Market between Greenwich and Washington Streets has 12 tenants, with a total of 23 slated for the space (DEA Crew has 22 signed deals). Purveyors include Cappone's Salumeria, an Italian sandwich shop, Champion Coffee, Ed's Lobster Bar and Flower Girl NYC. It will soon be home to an artisanal soap shop and tomorrow, Tivoli, N.Y.-based Heermance Farm will display its local organic fruits and vegetables.
The stands range from 60 to 200 square feet each, and the market seats 60 seats in a sky-lit area.
Peter Wormser, the principal of Wormser + Associates Architects, designed the William Gottlieb Real Estate-owned space. Mr. Reda said he signed a lease about a year and a half ago.
The property manager for William Gottlieb Real Estate deferred a request for comment to an outside spokesman, who didn't immediately respond to said request.