Houston Office Loan Goes to Servicer Watchlist as Vacancies Mount
---
---
A $96.7 million CMBS loan on a four-office portfolio in Houston was added to Midland Loan Services' watchlist this month as tenant vacancies at the properties continue to stack up, according to a report issued today by the financial research firm Trepp.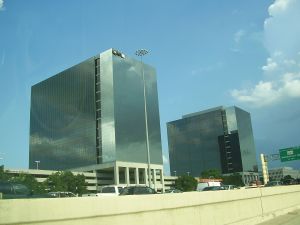 Three tenants occupying more than a third of the portfolio, which includes the 18-story office buildings Park Towers South and Park Towers North, have relocated or will vacate the properties before November, servicer notes obtained by Trepp show.
Citigroup originated the loan to TPMC Realty Corporation in May 2005 to refinance existing debt on the portfolio. The loan is due to mature in May 2015 and makes up 3.4 percent of the collateral behind CD 2005-CD1. The original balance was $105 million.
General Electric occupies 57 percent of the Park Tower South building and 28 percent of the total portfolio with 156,433 square feet of space. GE's lease expires in April 2015.
Additional leases for United Healthcare, which occupies 4 percent of the portfolio, and the accounting firm Easley, Endres, Parkhill & Brack, which occupies 3.5 percent, have expired or are due to expire this month.
Trepp reported in February that the systems and security management software firm NetIQ, the second largest tenant in Park Tower South with 106,435 square feet—16.6 percent of the full portfolio—would be relocating elsewhere in Houston, with its lease up in late July. The firm recently moved into a new office space at 515 Oak Post Boulevard, a NetIQ operator confirmed.
With NetIQ gone, more than 50 percent of the portfolio is likely to become vacant by next April, according to Trepp. TPMC Realty Corporation did not immediately return a request for comment.
"A boom in new office building in the major Texas cities could be having a negative effect on older buildings looking to hold onto large tenants," Trepp Research Analyst Joe McBride told Mortgage Observer. "This complex was built in 1971 and renovated in 2000, which may be a factor when these tenants are looking at extending their leases versus relocating to a newer property."
Mr. McBride noted that the servicer comments do not specify if all of the tenants are planning to relocate.
The two main office towers have suffered major vacancies in the past, beginning in the late 1980s, according to previous news reports.
"For more than a decade Park Towers has sat like a stark white elephant on the West Loop near San Felipe," the Houston Business Journal reported in 1999.