Disappearing Dive Bars: Smith's Is Next To Go
---
---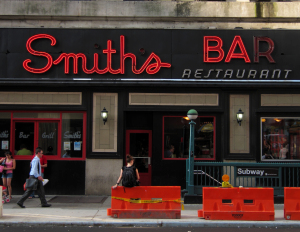 The business landscape of New York is constantly changing–which makes it especially sad to see those with the longest histories number among the casualties. Smith's Bar is the latest, according to Vanishing New York, after a 60-year run in its location at 701 Eighth Avenue at 44th Street.
Smith's will close this Thursday due to issues with its lease. The dive bar, which opened in 1954, has mostly maintained its unique charm, even after new owners bought the place "somewhere around 2009." Its website now directs to its affiliate, Social Bar.
To read the whole story on New York Observer, click here.