Cafés Owner Expands Business With Commissary Space
---
---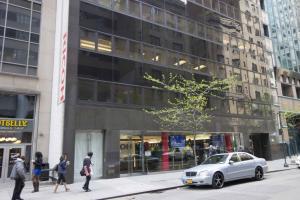 Blue Radish Group, the parent company of Bread Market Café, Café Beyond, Digby's Café and City Chow Café, has expanded its business with a new commissary space for its catering and delivery business, Commercial Observer has learned.
The company took 6,800 square feet on the lower level of 144-146 East 44th Street between Third and Lexington Avenues in a 10-year deal, a spokeswoman for the tenant's broker said. Blue Raddish has assumed occupancy of the space in the 45,000-square-foot, seven-story building.
Stacey Kelz, the owner of Stacey-Robins Realty Corp., a boutique commercial real estate advisory firm, represented Blue Radish Group in the deal. Daniel Doherty, formerly of Massey Knakal Realty Services, represented the landlord, Davidim A.G. Ltd, a family, in the deal.
"The interesting feature about the space was that it had a full-service commercial-grade kitchen previously occupied by a TV production company that filmed cooking demonstrations and [it was a] very unusual space to find inMidtown," Ms. Kelz said.