Jay-Z's Family Wings Business Plans Big Expansions
---
---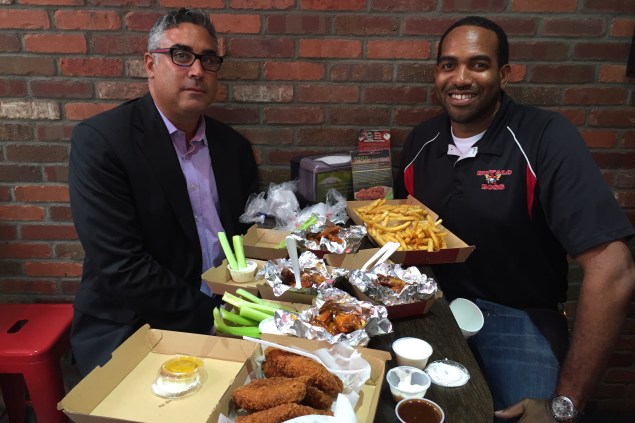 As hungry wing-lovers lined up at Buffalo Boss on a busy weekday afternoon at a Downtown Brooklyn location of the organic chicken wings business that rap legend and entrepreneur Jay-Z helped his cousin Jamar White and Mr. White's business partner Ronald Lee start in 2010, Mr. White and his broker, Adam Stupak of TASK Realty, invited Commercial Observer inside for an exclusive chat and chicken sampling.
With hip-hop music blaring from the speakers and Japanese animation running on flat screen televisions in the 1,200-square-foot fast-service eatery at 400 Jay Street, Mr. White dished out both boneless and bone-in selections to go with Buffalo Boss's homemade blue cheese dressing and insider information on the growing company's enlargement ideas.
"Over the next five years, we have an expansion plan to open up 10 to 15 spaces in the tri-state area; then we'll build up from there," said Mr. White, 39, a former graphic designer who still resides with his family in the Bed-Stuy neighborhood where he grew up with his famous relative.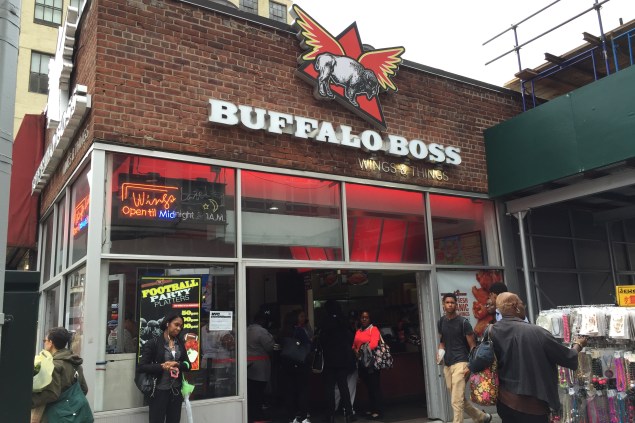 Buffalo Boss opened its second location in the corner space at Jay Street and Willoughby Street in October 2010 after inaugurating its original spot at 554 Fulton Street elsewhere in Downtown Brooklyn in January 2010, Mr. White said. But the company is now occupying its second space at the nearby Barclays Center this season and will soon be announcing a new Manhattan location somewhere along Harlem's famed 125th Street. The wings spot with 32 current employees makes for an attractive tenant option to building owners, Mr. Stupak said.
"I want you to take a look around this place," said Mr. Stupak, who first got in touch with Mr. White after finding out about the new business in a TMZ report several years ago. "It's spotless. They clean up, they're very particular. That's very important with the landlord."
Mr. White brought out a buffet assortment of wings dipped in what he says represent the eatery's three most popular sauces–honey barbecue, spicy buffalo and teriyaki–along with some french fries. He showed a picture of him and his wife dining in Paris with Jay-Z and Beyoncé shortly after the power couple's recent concert there. With CO chomping away at the moist meat, he pointed out that the company receives fresh daily chicken wing deliveries from an upstate farm that sells vegetarian-fed, free-range chickens that have taken no antibiotics. The chicken then undergoes a 24-hour marination at the restaurant that includes "organic wings & things" in its name, Mr. White said.
"I'm a wing connoisseur, I've been a wing fanatic as long as I can remember," he said. "I went to all these wing spots and I knew we could do better. I said, 'Let's take the wings out of the bar.'"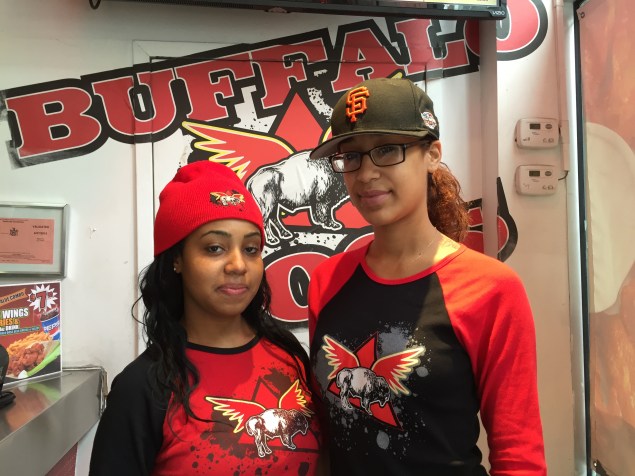 The company works with local community-based organizations to hire many of its employees, and Mr. White cited neighborhood partnerships, along with high commuter traffic and nearby public transit options, as important aspects of his selection criteria for potential sites in the company's expansion to an eventual footprint as large as 400 locations nationwide, he says. Store employees like Mr. White's daughter, Kiara White, 24, and Andie Ramos, 23, say they've bought into their employer's vision.
"Teamwork makes the dream work," said Ms. Ramos, a two-month employee from Middle Village, Queens. "We say that all the time around here. We really do take pride in what we do."