Williamsburg Rental, Seven Years Stalled, Scores $21M Take-out Loan
---
---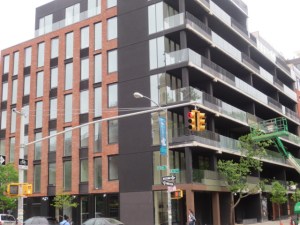 A once-stalled Williamsburg rental project that made an auspicious turn-around last year has received a $21 million take-out loan—a capstone on a successful project, as a developer can free up cash and lock in a lower interest rate than on a construction loan. Eastern Union Funding brokered the new loan with Investors Bank.
The eight-story, 42-unit residential building, at 210 North 12th Street, had been underway since 2007, but construction didn't actually begin until summer of 2013. This was likely due to environmental concerns with the brownfield status of the North Williamsburg plot, prior reports show. 
Construction was completed this April and developer Isaac Schwartz was able to lease up the building within five weeks, according to David Eisen, vice president at Eastern, who brokered the deal.
"We got the bank to jump on the deal," Mr. Eisen told Mortgage Observer. "Obviously, the bank was not going to fund until [the property was] fully stabilized, but they were willing to do all the due diligence prior to stabilization, because they knew the area and believed in the projected rents."
The 12-year loan, which Mr. Eisen said had a rate in the "low threes," has a seven-year fixed-rate term and an option for a five-year extension after that. There is no pre-payment fee if the mortgage is paid off after seven years.
Mr. Schwartz's Adir Holdings purchased the now-prime piece of land ten years ago, prior to the arrival of J. Crew, Whole Foods and half of the state of Ohio. The firm's timing proved shrewd, and it built in the amenities appropriate for the nouveau demographic at the apartment building: a gym, lounge and parking spots for bicycles.
"David was very dedicated and successful," Mr. Schwartz said of his broker in a statement provided exclusively to Mortgage Observer. "What sets him apart is his understanding of what makes a lender tick."
The new loan replaces a $10 million construction loan from Los Angeles-based BBCN Bank originated in March of 2013. That loan had a rate over five percent, Mr. Eisen said.