DOB Commissioner, Real Estate Leaders Push Greener Buildings
---
---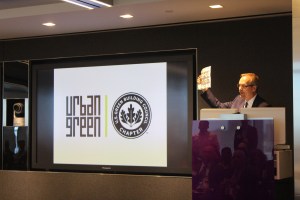 A day after the People's Climate March drew hundreds of thousands of activists and Mayor Bill de Blasio announced plans to cut the city's emissions by 80 percent from 2005 levels by 2050, city Department of Buildings Commissioner Rick Chandler promoted the plan at an Urban Green Council conference for architects, engineers, environmental advocates and real estate industry leaders.
During the conference's keynote, the former Hunter College administrator and DOB borough commissioner spoke specifically to property owners among the conference's 130 attendees who will see buildings starting at 25,000 square feet subjected to the same retrofitting and auditing requirements as buildings of 50,000 square feet or greater under the Administration's plan.
"I've spoken with my private-sector colleagues and they know that going green is good business," Mr. Chandler said at the event organized by the influential nonprofit that's the local chapter of the U.S. Green Building Council. "Their tenants want buildings that are more environmentally friendly. This is true in the residential and commercial sectors."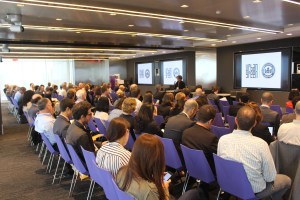 Mr. Chandler's speech on the plan that the administration pledged to pay for through its capital budget led a program that also included a presentation on a hyper-efficient 200,000-square-foot office tower in Vienna and panels featuring WinnCompanies, Howard Hughes Corporation, Synapse Capital, Tishman Construction and Rudin Management Company officials discussing their own company's sustainable developments. With the mayor's plan focusing on saving New Yorkers $8.5 billion over 10 years and slashing energy consumption by achieving the bulk of the energy savings through reductions in building emissions, the panelists' case studies on old brick buildings in their portfolio where they installed features like new external walls, windows and roofs made a strong impression, said Cecil Scheib, the chief program officer at the council.
"What was interesting about these owners is that, instead of saying, 'I'll just fix the bricks,' they said, 'I'm going to fix things,'" Mr. Scheib said. "If you look at the before and after pictures, it looks like a Dr. Zizmor ad on the subway."