'Tribute in Light' To Shine All Night on 9/11 Anniversary
---
---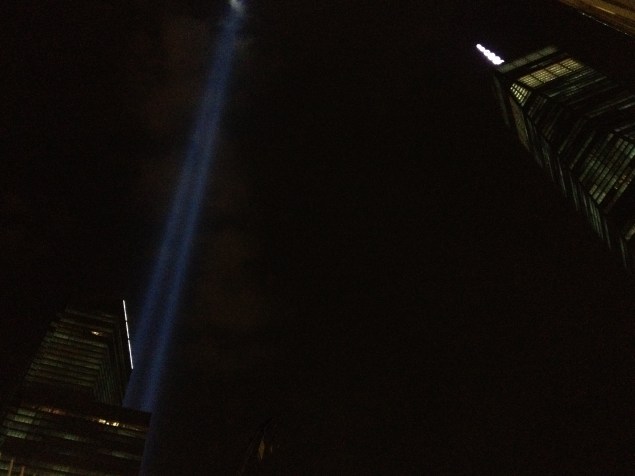 The now-familiar dual beams rising into the night sky from the World Trade Center site will grace the landscape once again tomorrow night on the anniversary of the 9/11 tragedy, with rays visible from 60 miles away powered by 88 xenon light bulbs.
The Municipal Art Society and the nonprofit public art organization Creative Time first launched "Tribute in Light," a pair of spotlights cast from the rooftop of a building just south of the trade center site, six months after Sept. 11 in March 2002, but the National September 11 Memorial & Museum now oversees the display, which it will feature as part of a series of events marking the first time the new memorial on the trade center site will open to the public on the night of the anniversary, said Joe Daniels, the museum's President and CEO.
"The Tribute in Light is something that's so iconic and so beautiful," Mr. Daniels said yesterday at an event noting the progress of the rebuilding at the trade center complex. "It's an honor for us to operate it."
The anniversary observance will begin with a city-wide moment of silence at 8:46 a.m., the time when the first plane hit the Twin Towers in the attacks which would eventually kill 2,753 people in New York, followed by a reading of the names of the 2,977 people who died in the terrorist strikes thirteen years ago in a ceremony for family members of the victims at the memorial site. First-responder personnel will then gain access starting around noon, and the museum will open the memorial to the general public from 6 p.m. to midnight, museum officials said.
The beams filled a void left by the fallen towers when a group of designers and a stage lighting consultant conceived of the memorial, and the rays still play a prominent role at the site where four new towers will soon stand, said Margaret Newman, executive director of Municipal Art Society.
"It's a very new kind of memorial in a way because it has no tangible site," Ms. Newman said. "I don't think there's anything in the world like it."