Silverstein, Officials Hail WTC Progress On Anniversary
---
---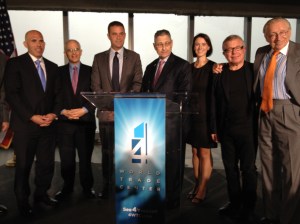 World Trade Center developer Larry Silverstein, master plan architect Daniel Libeskind and Port Authority of New York & New Jersey Vice Chairman Scott Rechler praised the progress of the 16-acre trade center site today in a "World Trade Center update" event timed for the week of the Sept. 11 anniversary.
Messrs. Silverstein, Libeskind and Rechler and a slew of other officials sought to draw attention to the strength of the downtown real estate market, Mr. Libeskind's vision for the site and the now-on-track construction schedule as the process of rebuilding on the site nears the end of its 13th year.
"Of course, we all wish we could have gotten it done faster," said Mr. Silverstein, the chairman of WTC leaseholder Silverstein Properties, in a speech at the event on the 67th floor of 4 WTC. "But that does not diminish the pride we all should feel."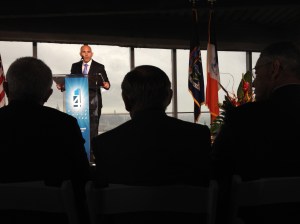 As Mr. Silverstein spoke, photos of the complex flashed on flat screens beside him, along with stats on the downtown area since 2001: the area's residential population and number of total hotel rooms have tripled, while the trade center, Brookfield Place and South Street Seaport will create 1.5 million square feet of new destination retail to go with the four new office towers at WTC. Despite earlier construction delays, cost overruns and criticism over the nearly $4 billion transportation hub that's scheduled to open next year, the site owned by the Port Authority is leading a resurgence of the downtown area from its earlier tragic circumstances, said Mr. Rechler.
"Lower Manhattan is poised to become one of the world's most sought-after central business districts," he said. "This would have been hard to predict in the aftermath of the tragedy of 9/11."
Mr. Libeskind's design for the site emerged in the years following the attacks that killed 2,753 people in New York thirteen years ago Thursday. The site honors both the survivors and the lives lost that day, said the architect and planner who recalled both his experience arriving in New York aboard a boat as a Polish immigrant and the contentious process of bringing the design to fruition.
"All I can say is that the proof is in walking the site," Mr. Libeskind said of the $30 billion site. "It's no longer a plan on a piece of paper. I'm very humbled and honored to be a part of this process. Everyone I dealt with on this project–and I dealt with a lot of people–is a true believer."