Rising Broker, Rising Markets: Derek Bestreich of Marcus & Millichap
---
---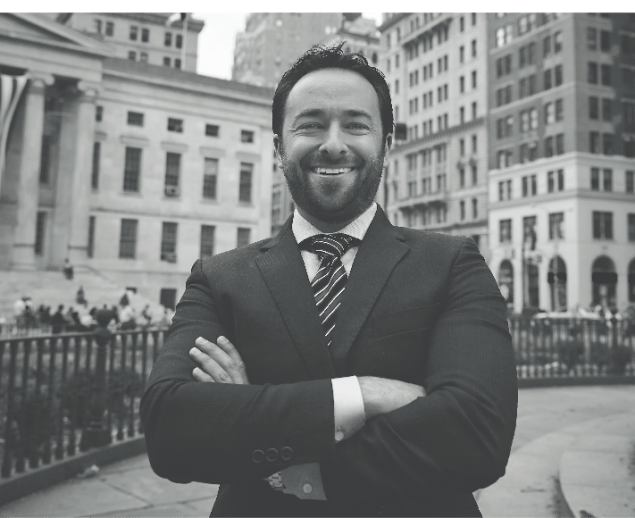 The success of Derek Bestreich's eight-member investment sales team at Marcus & Millichap's Brooklyn office embodies that of the borough's next emerging markets. The group overseen by the married 32-year-old Park Slope resident closes sales in neighborhoods like Bed-Stuy, Crown Heights, Lefferts Gardens and East Flatbush that represent the next wave of booming Brooklyn real estate. The University of Texas graduate with Queens roots began his career in New York City shortly after college as a cellular lease buyer for an asset-backed securities company, where he was cold-calling potential sellers and "hoofing it miles a day," he said.
He started at Marcus & Millichap in 2009. The winner of the firm's national achievement award for 2014, Mr. Bestreich also won his office's rookie of the year and mentor of the year awards. Commercial Observer visited the firm's Downtown Brooklyn office to talk with the broker who closed 90 investment properties in rising Brooklyn markets for a total of $185 million in transactions from 2009 to the summer of 2014, according to the company.
Commercial Observer: What have sales looked like for your team over the past year?
Mr. Bestreich: In the past 12 months we've sold just over 48 properties totaling over 600 units for about $122 million, all in Brooklyn. And we've helped some of our clients do 1031 exchanges into retail net lease properties across the country, leveraging the Marcus & Millichap platform. So I sold four net lease properties for $12 million, a total of $134 million in 53 properties in the past 12 months. We're currently selling about a building a week, or over a building a week, and that's just me and my team. There are a few teams in Marcus & Millichap. The office in Brooklyn as a whole is probably closing two to three deals a week.
| | |
| --- | --- |
| "I don't feel young; I don't feel old. I feel like I'm in the perfect spot to be in." | |
How have you been able to close so many transactions?
I think there's a lot to be said in this business for sticking to the fundamentals. I don't need to get totally creative; I don't need to start thinking wildly outside the box. I just need to focus on a few fundamentals of the business, which I've basically identified. And I equate it to a basketball player. If you're a professional athlete, you have to stick to the fundamentals, you know—practicing, doing whatever it takes to make sure you're doing it at your best, practicing your free throws. And you know, I don't know if there's so much to me and my business besides an intense focus on making sure we're achieving our desired objectives on a daily, weekly, monthly, and annual basis.
Can you tell us about the recent eight-unit Bed-Stuy building you were able to sell for $3.1 million?
Yeah 75 MacDonough [Street]—this is a price record for a big eight-family, partially-stabilized [building] in Bed-Stuy. It was just a really big attractive eight-family that sold for $400,000 a unit and over 17 times the rent roll to an overseas fund.
What neighborhoods do you work in?
Bed Stuy, Crown Heights, Lefferts Gardens—we're dominating those markets. We did two portfolio sales this past year. There was an off-market 124-unit [building] in Crown Heights that was sold to an overseas REIT [for $25 million]. That was a good deal. You know, it sold 14 and a half times the rent roll. It was an off-market transaction, so a lot of people were going after it. I was competing with other very notable brokers in the market. It was a matter of having the right information at the right time and really honing in on how to make pieces come together.
What are the next hot neighborhoods in the Brooklyn market?
I'm hearing that a lot of people that move to, you know, Crown Heights and Bed-Stuy are getting priced out, and now they're looking at Flatbush or potentially the closer areas of Brownsville. It's very basic. The neighborhoods in Brooklyn that are along the waterfront, first-tier neighborhoods—whether it's Greenpoint, Williamsburg, Brownstone Brooklyn—those are the closest to the city, so they're the best. But you've had a huge wave of renters who have pushed, looking for a little bit of cheaper rent, all the way up through Jackson Heights, Woodside, Ridgewood, Bed-Stuy, Crown Heights, Lefferts Gardens, Sunset Park. The next wave is all about the trains; it's all about proximity to the city.
I think a lot of young people are taking a risk and moving to New York—get some roommates; try to make it work. There are so many jobs in New York. And so many of these people don't want or need to be in the city anymore. They know that these neighborhoods are cool: Bushwick, Crown Heights, Bed-Stuy, Lefferts. The bones, the infrastructure, the trains are there, and so is the architecture, the greenery, the proximity to Prospect Park.
Rents are higher; there are a lot of owners who are trying to unlock value in these properties through rent stabilization, where rents are artificially kept at below market rates. So I don't think that these neighborhoods are new on the map. I've always had an appreciation for these neighborhoods. But I'll go show houses in these neighborhoods now and you see the people walking to the trains in the morning and you see professional people in ties and suit jackets and they're commuting. It's good for real estate owners.
Do you feel young in this business? What advice do you have for young people who are trying to advance in real estate?
 First of all, there are a lot of young buyers that are my age. I think they're playing around with their family's money or they're raising money. New York is a place where there are a lot of smart people and a lot of people who are really willing to work their tails off. I don't think it's a matter of age. I know people that are unbelievably successful that are younger than me.
I don't feel young; I don't feel old, I feel like I'm in the perfect spot to be in. If you have an unwavering laser-like focus and the hunger, then you can be unbelievably successful in real estate.
We have a really good dynamic in the office where a lot of us are active, and we're really hungry and we're friends. You know we're not greedy brokers. I'm not looking to do the deal by myself and take all the commission. We're sharing the wealth. I value my relationships with the brokers in this office more than any deal. No deal is more important to me than any person in this office.