Report: NYC Higher Learning Sector to Spend $10B on Construction
---
---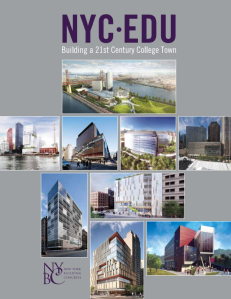 New York City's 105 colleges and universities will invest $9.85 billion in construction of new and improved academic facilities between 2013 and 2017, according to a report released this morning by the New York Building Congress at an event at New York University.
The city's colleges, graduate schools, professional schools and medical schools, a group that, at 534,710 students, commands a total enrollment that's larger than the population of Atlanta, will provide an economic boon that's more than double the $4.2 billion the higher education sector spent on 463 construction projects over the previous five years, the report by the group that promotes the design, construction and real estate industry says.
"Those of us who work at universities know that one of the values of good research is to make the obvious inescapable," said NYU senior vice president Lynne P. Brown, who is co-chair of the Building Congress higher education committee, in a prepared statement. "By gathering in one place and analyzing data not collected before, this report makes the inescapable point – colleges and universities are helping build New York and in the process lifting the city's economy."
NYU is currently starting a 1.9 million square foot expansion, but other new projects include Columbia University's 6.8-million-square-foot Manhattanville campus, Cornell University's planned $2 billion Cornell Tech campus on Roosevelt Island, a pair of high-tech facilities slated for City University of New York's "decade of science" expansion, Fordham University's Lincoln Center campus and many others in a sector whose planned spending could multiply into $14.65 billion in business earnings and 100,000 collective years of employment, according to the report. NYU officials project 14 largescale projects for the next five year, while CUNY anticipates 11 and Fordham hopes to complete three major projects.
The sector that boasts almost twice as many students as Los Angeles, its closest competitor, and accounted for 15 percent of the city's total job growth since 2000 carries an enormous positive impact both in the short and long terms, said Richard Anderson, the president of the Building Congress.
"This is part of a construction boom that's underway throughout the city," said Mr. Anderson. "Looking forward, the construction spending will be even greater. This is a strong economic sector for the city."