Microsoft to Open Flagship Store on Fifth Avenue
---
---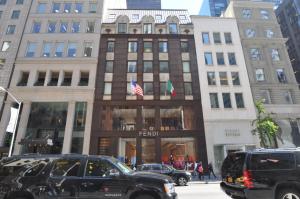 Microsoft (MSFT), that other tech company that has largely remained out of the limelight since its competitor Apple released the iPhone 6, is opening its flagship store on Manhattan's Fifth Avenue.
First reported by The Wall Street Journal, Microsoft will take over the space at 677 Fifth Avenue currently occupied by luxury retailer Fendi. The company will occupy the ground through fourth floors at the 5,000-square-foot lot, as well as space in the basement to be used for storage. This also includes fifty feet of frontage on Fifth Avenue.
Microsoft envisions its new space, located on one of the most high-profile retail corridors in Manhattan, to be more than a place to pick up the company's newest laptop or smartphone.
"In addition to retail, there will be experiential space for Microsoft as a company to further engage with our customers and partners in new and innovative ways," said David Porter, the company's corporate vice president for worldwide retail stores, on Microsoft's website. "This is an important milestone for Microsoft overall, our Stores team and millions of our current customers, as well as the millions to come."
Since October 2009, Microsoft has been aggressively opening physical store locations, and now has 104 throughout the U.S., Canada and Puerto Rico. Ten more stores are planned to open before the December holidays.
Cushman and Wakefield's Andrew Kahn, Jesse Hutcher and Jonathan Scibilia represented the landlord 677 Fifth Avenue Corp. CBRE's Richard Hodos represented Microsoft.
"We are thrilled Microsoft chose 677 Fifth Avenue to build what will be one of the most highly visible retail flagships in New York City," Mr. Kahn told Commercial Observer.