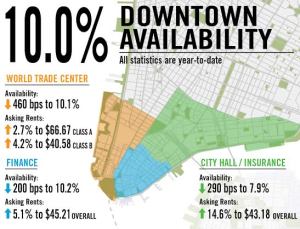 It has been 13 years since the events of 9/11 and the world has changed a lot since then. The Lower Manhattan office market has been part of this evolution, and has steadily improved this year. At 10 percent, the availability rate is down 290 basis points since the end of last year. Oddly enough, it is at exactly the same rate as recorded in September 2001, but 13 years later, the U.S. is economically healthy and not six months deep into a recession due to the dot-com era running out of steam. The current state of Lower Manhattan is the healthiest it has been since 2001 and only time will tell if the availability rate will reach as low as it did in July 2000, when it was 4.5 percent.
Downtown has had quite a bit of success recently due to myriad factors, including activity in the TAMI (tech, advertising, media and information systems) sector, tenant migration and a flight to value. All three Lower Manhattan submarkets have contributed to the market improvements and have had stellar statistical changes this year. City Hall/Insurance's availability rate dropped 290 basis points to the lowest of the three Lower Manhattan submarkets at 7.9 percent, while overall average asking rents are up 14.6 percent to $43.18 per square foot. The Financial submarket, the biggest submarket in Manhattan, had a 200 basis-point-drop in availability to 10.2 percent. There have been six leases greater than 100,000 square feet completed in this submarket in 2014, which has allowed landlords in the area to raise rents an average of 5.1 percent this year for all classes of space.
The World Trade Center submarket's availability rate currently stands at 10.1 percent and is down 460 basis points so far this year. Both Class A and Class B asking rents are up since the end of last year; Class A asking rents rose 2.7 percent to $66.67 per square foot and Class B asking rents jumped 4.2 percent to $40.58 per square foot. Despite the recent success of this submarket, the addition of One World Trade Center to the inventory in November will bring 1.2 million square feet of available space to the market. This will push availability back up to approximately 13.0 percent, but this statistic is unlikely to stall the trend of tenants seeking discounted rents, which will keep demand high in Lower Manhattan.