Jack Resnick & Sons Donates Space at 315 Hudson to Lower Manhattan Cultural Council
---
---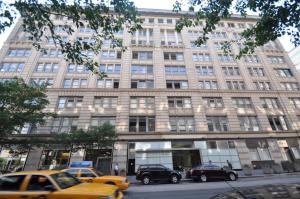 Lower Manhattan Cultural Council's Workspace Artist Residency Program will enjoy roughly 50,000 square feet of donated space at 315 Hudson Street, thanks to a partnership between the non-profit and real estate group Jack Resnick & Sons.
First reported by the New York Post, the 8th floor of the Hudson Square office building, which has been emptied of tenants, will be converted to meet artists' needs. This includes constructing 32 studios, meeting rooms, common areas, and a dance floor and rehearsal space. Artists are expected to begin working at the site immediately.
"We are very grateful to Jack Resnick & Sons for donating this space," Melissa Levin, LMCC's director of cultural programs, said in a statement.
"The 8th floor at 315 Hudson, with its prime Hudson Square location and views of the city and Hudson River, provides an inspiring and flexible studio space for visual artists, performing artists, and writers," Ms. Levin added.
LMCC's Workspace program capitalizes on temporarily vacated office space in Lower Manhattan and works with the real estate community to provide space to 25 to 30 artists that would otherwise be unattainable.
"Bringing LMCC's Workspace program to 315 Hudson Street is positive for our building, great for the Hudson Square community, and beneficial to the entire Downtown district at large," Jonathan Resnick, the president of Jack Resnick & Sons, said in prepared remarks.