Gary Barnett's Extell Enters Brooklyn With City Point Deal
---
---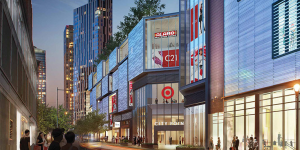 Gary Barnett's Extell Development Company is slated to develop residential units in what marks phase three of City Point, the mixed-use development in Downtown Brooklyn, Commercial Observer has learned.
The development deal, which is in the contract stage, represents Mr. Barnett's first foray into Kings County. The prolific developer is undecided about whether the project will be a rental or a condominium, sources close to the deal said, but no affordable housing has been included in the plans.
When Commercial Observer interviewed Mr. Barnett for the Sept. 3 issue, he said he was moving into the Brooklyn market because "the market's moved up there. It's a diversification for us. And it was an opportunity of size. So it made sense." He declined to identify the specific site then and today Mr. Barnett declined to comment.
City Point is a 1.9-million-square-foot residential, retail and office development rising in Downtown Brooklyn. Phase three is comprised of a residential tower that sits atop the retail and office podium. The residential component is due for completion by 2020, according to a spokeswoman for developer Washington Square Partners, and the retail and office components are set for completion in 2016. The first phase of a 50,000-square-foot retail building, One DeKalb, was completed in February 2012.
In June 2007, Acadia Realty Trust and Washington Square Partners closed on a ground lease for the city-owned City Point site, formerly Albee Square Mall. The site is between Fulton and Willoughby Streets and Flatbush Avenue. It broke ground in the summer of 2010, as Commercial Observer previously reported.
Acadia didn't immediately respond to a request for comment and Washington Square Partners' spokeswoman said she couldn't get anyone on the phone to discuss the phase three deal.