Four New Leases and Renewals South of Times Square
---
---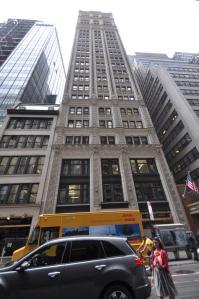 Adams & Co. Real Estate inked two renewals and two new leases totaling 5,998 square feet at the terra cotta World's Tower Building at 110 West 40th Street one block west of Bryant Park between Avenue of the Americas and Broadway, Commercial Observer has learned.
The leases that range in length from three to eight years will keep Insight Investments and BLB Textiles onsite and move David Geller Associates and Pyramid Consulting Group into spaces of varying size within the 25-story, 125,000-square-foot structure that has 120 tenants, said Brett Maslin of Adams & Co.
"I have tenants that are 400 square feet and I have tenants that are 5,000 square feet," he said. "It's a great incubator building. We're really committed to the 1,000 and 1,500-square-foot tenant."
Mr. Maslin and Adams & Co. principal David Levy represented both landlord and tenants in the leases.
Marketing firm David Geller Associates will use 2,910 square feet for its general and executive offices in a space with asking rents of $49 per square foot.
Financial company Insight Investments will continue operating from a 1,578-square-foot space with asking rents of $48 per square foot.
The office and showroom space for BLB Textiles, a 1,013-square-foot facility with asking rents of $48 per square foot, will remain onsite.
And corporate recruiting firm Pyramid Consulting will take over a 497-square-foot area with asking rents of $48 per square foot.
Eccentric developer Edward C. Browning completed the building in 1913 with never-realized plans to keep airplanes for his personal use on the rooftop, but these days, Mr. Maslin says, a partnership of over 60 people owns the property. The building now also features an available space formerly occupied by Crumbs Bakeshop on the 21st floor.