Event Producer Snaps Up Industry City Space
---
---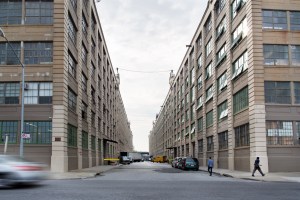 Full-service event design, planning and production company David Stark Design and Production has signed a lease for 38,000 square feet at Brooklyn's Industry City.
The Brooklyn firm will move into the 40-acre Sunset Park complex in early 2015, according to a release from Industry City. Its current digs are in a 5,000-square-foot production space in Carroll Gardens and a 9,000-square-foot storage space in Gowanus, according to Crain's New York Business, which first reported news of the deal.
The new space will include a 25,500-square-foot production studio for manufacturing sets and floral design, and a 12,500-square-foot office that supports the production operation. All of the company's 40 full-time and 40 to 60 seasonal employees will relocate to two spaces at the complex.
David Stark Design and Production's lease, which was signed early last month, is for 10 years and 10 months. Jeff Fein at Industry City negotiated the deal on behalf of Industry City and Pinnacle Realty of New York represented the tenant. Industry City's spokeswoman wouldn't disclose the asking rents.
Tenants at the 16-building, 6-million-square-foot Industry City campus include MakerBot, the Brooklyn Nets, which will bring its training center to the complex next year, Alexandra Ferguson, Ball & Buck, Bellboy, Blue Marble Ice Cream, Fodera Guitars, Karen's Body Beautiful, Liddabit Sweets, Li-Lac Chocolates, Malia Mills, Modko, Roll & Hill, Sebastian Errazuriz, Steven Alan and Utrecht Linens/Blick Art Supplies.