Co-op Asking Combined $5.2M for UES Retail Spaces
---
---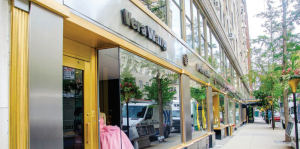 Carlyle House, an Upper East Side Co-op, has tapped Massey Knakal Realty Services to find new tenants or a new master lease starting in May 2016 for the co-op's 6,956-square-foot retail spaces that front Madison Avenue between East 76th and East 77th Streets, Commercial Observer has learned.
The co-op at 55 East 77th Street, which sits next to the Carlyle hotel, will deliver the spaces on the basement, first and second floor of the building fully vacant with a total asking price of $5.2 million per year when the hotel's lease on the currently-divided stores expires on April 30, 2016 in the locations on the bustling street, said Massey Knakal broker Jill Lovatt.
"A testament to the robust nature of Madison Avenue, this vibrant corridor has experienced a recent transformation of the brownstones adjacent to the Whitney, with a significant amount of new store openings – 30 in 2013 and 11 in the first half of 2014," said Ms. Lovatt in a prepared statement. "Rents for the diverse retail mix have soared to record levels. Those seeking prime sites on Madison Avenue include retailers from around the globe."
The Massey Knakal team of Ms. Lovatt, CEO Paul J. Massey and colleague Thomas D. Gammino, are marketing the exclusive listing, the company announced.
"This location is one of the premier retail locations in all of New York City and we are excited to assist ownership in finding the perfect opportunity for the space," Mr. Massey said in a prepared statement.