Introducing Nine New NYC Neighborhoods
---
---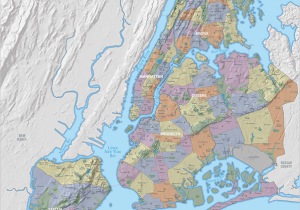 Allerton, Kingsbridge Heights, Erasmus and Fox Hills are now officially "on the map," or at least the city's Department of City Planning's updated 2014 wall map. The map includes nine new neighborhood names and the agency's most up-to-date demographic information.
First reported by The Wall Street Journal, the 2014 version of the map released earlier this month includes profiles of New York City's 59 Community Districts differentiated by color. Newly designated areas also include Bronxdale in the Bronx, Hudson Yards in Manhattan and Bayswater, Hammels and Queensbridge in Queens. While the map does not claim to be the definitive guide to New York City neighborhoods, it does include district boundaries and economic and geographic profiles of the city's communities.
City Planning has produced the wall map since 1994; the most recent prior edition was released in 2010.
Unlike earlier versions, the map is now topographically correct, making it easier for residents of Murray Hill or Cobble Hill to see how their communities received their monikers. Some bodies of water, including the Bronx River, Gowanus and the Jerome and Central Park Reservoirs, have also been added.
Other changes to the map include Staten Island's now-closed Fresh Kills Landfill, renamed Freshkills Park, and Downtown Flushing replaced by merely Flushing.