Brooklyn Public Library Reveals Plan to Replace Aging Library with Condo Tower
---
---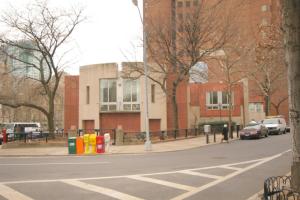 A new condo tower could rise at the site of current Brooklyn Heights Library at at 280 Cadman Plaza West, as part of a redevelopment proposal that would net the library system $40 million to bestow upon struggling branches.

First reported by Capital New York, the decrepit, cash-strapped branch may be replaced with a 21,000-square-foot space in the base of the condo tower. The library would be one of the largest in the Brooklyn system, but will be significantly smaller than the 60,000 square foot library currently on the site (BPL contends that much of the current space is not being used; additionally a business and career library will be moved to another site).
"In the face of strong demand for our services and an aging infrastructure that is costly to maintain, Brooklyn Public Library is working creatively to ensure that our spaces and services meet the changing needs of our patrons," said Linda E. Johnson, the president and CEO of the Brooklyn Public Library, in a press release. "This project will help us create a beautiful, modern library to serve the Brooklyn Heights community for years to come."
The new library will be part of a larger development project by Hudson Companies, Inc. at the site of the Brooklyn Heights building. The land beneath the library was sold to the company for $52 million.
The revitalized mixed-use property will be 30 stories and include 350,000 square feet of space housing 132 apartments, a gym for St. Ann's School, and two micro-retail spaces with Brooklyn Roasting Company and Smorgasburg as tenants. Marvel Architects is slated to design the structure.
As part of the deal, Hudson Companies will also create 114 affordable housing apartments off-site in Community Board 2's district.
"Hudson is honored and excited to be designated as the development partner for the Brooklyn Heights library," said Joseph Kohl-Riggs, the director of The Hudson Companies, in a prepared statement. "We're looking forward to working with Brooklyn Public Library, the New York City Economic Development Corporation and the community to build the best new branch for Brooklyn Heights, while simultaneously helping to the fund the library's extensive capital needs at branches throughout Brooklyn."
According to a New York Times report, the library will be temporarily housed at Our Lady of Lebanon Church in the neighborhood during the building's construction. Opponents of the project rallied outside the meeting last night, according to The Times. The project must now go through Uniform Land Use Review Procedure.