Tech Firm Takes Top Floor Space in Flatiron District
---
---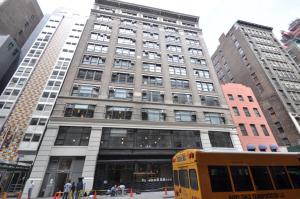 Digital research and angel investment firm Chaincode Labs will establish its Flatiron District headquarters through a five-year, 4,054-square-foot lease on the top floor of the Kaufman Organization's 11-story building at 27 West 24th Street, Commercial Observer has learned.
Asking rents at the property where Kaufman implemented extension renovation efforts in 2012 run $62 per square foot, and the tech firm's lease means that tech and creative companies have now leased out the entire building, said Kaufman broker Ian Norris.
"The firm approaches each prospective tenant with the idea of finding them a space that will help them grow," said Mr. Norris in a prepared statement. "We anticipate that Chaincode Labs will be very successful in the building."
Mr. Norris, Andrew Margolin and Kaufman principal Grant Greenspan negotiated on behalf of the landlord in-house, while Robin Fisher and Christie Bennett of Newmark Grubb Knight Frank represented Chaincode Labs.
"The location, upgrades to the lobby and common areas and the natural light were three of the most compelling aspects of the space," Ms. Fisher wrote in an email. "They immediately knew it could be the creative tech environment they were looking for."
Kaufman invested millions in a renovation that included a new web-based card access system, refurbished elevators and wood paneling and slate floors for the lobby area that's just off Madison Square Park, company officials said. Tenants at the building now utilize a Kaufman app that allows them to purchase tickets to high-profile events.
"The Kaufman Organization was committed to taking advantage of the features already in place, like the loft-style layouts 13' exposed ceilings, exposure to an abundance of natural light and the prime Flatiron location," said Mr. Greenspan in a statement. "We identified a need and repositioned the building to meet the pent-up demand from tech, new media and creative firms looking for office space that was conducive to their brands and business goals."