Manhattan Rents are Too Damn High. What's a Restaurateur to Do?
---
---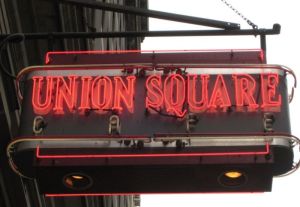 As rents become increasingly prohibitive in Manhattan, restaurants at all price points are struggling to stay open.
"The rent is so high because some tenants are willing and able to pay it," said Faith Hope Consolo, the chairman of the retail leasing and sales division at Douglas Elliman. "Relocating—perhaps with a shorter-term deal than normally—allows either this storm to pass, or gives the restaurant a chance to build a new market and perhaps be able to afford to return!"
It's not just the small under-the-radar restaurants that can't cut the mustard. Danny Meyer's Union Square Café will be shuttering. Mr. Meyer noted in the opinion pages of The New York Times on July 2: "The advertised rent is triple what we are now paying." Wylie Dufresne will close WD-50 on the Lower East Side by the end of the year. Early this year, Keith McNally closed Pastis in the Meatpacking District and Heartland Brewery closed at 35 Union Square West. And last year, Bobby Flay closed Mesa Grill in the Flatiron District.
Unable to pay for their spaces, what are restaurant owners or would-be restaurant proprietors supposed to do?
Brad Schwarz, a senior managing director and principal at Lee & Associates, suggested restaurateurs consider side streets and emerging areas like Hudson Square, with its zoning which will allow for more residential development, the Far West Side between 42nd and 57th Streets and near Hudson Yards. He also said to talk to landlords who have had space lingering on the market.
Similarly, Ms. Consolo said: "Move to an adjacent neighborhood, one that's still accessible to your core clientele, but that's still emerging. If you're in Williamsburg, try Greenpoint or even Prospect Heights. If you're in Nolita, go to the Lower East Side. If you're in Manhattan and really want to make a point, move to Brooklyn or Queens. It's starting all over again, but the next phase in a revolution of food throughout the city."
Peter Braus, a managing principal at Lee & Associates, pointed to Long Island City as an area to explore, while speaking on a Bisnow Restaurant Development Summit panel last month. He added that Williamsburg is not "fully saturated."
A hospitality real estate adviser at SKH Realty, Shane Davis, disagreed about Williamsburg, calling it "oversaturated," at the event, while Colby Swartz, a director at Suzuki Capital, said a few neighborhoods to hone in on are Dumbo and Bushwick in Brooklyn and Jamaica in Queens.
Proprietors can consider traditionally undesirable venues and locations.
Mark Birnbaum, a partner of EMM Group and owner of Catch and Lexington Brass in the Hyatt hotel in Midtown, said at the Bisnow event that opening a restaurant on the second floor is not a bad move.
But second-floor restaurant space isn't desirable to many restaurateurs, who generally want storefront..
"New Yorkers like streetscape," said Mr. Braus. He noted that with a second-floor space, the restaurateur has to forego outdoor space. The only concession would be if the deal included an accessible rooftop.
Jessica Schupack, the head of business development at hospitality brand Altamarea Group, suggested at the Bisnow event to look at sites with construction in front, keeping in mind that it's temporary, and that it can be used as leverage when negotiating.
The Village Voice recently noted in an article on this topic that another option is finding a group of investors to buy buildings and maintain low rents, which has worked for the owners of the Spotted Pig.
Regardless of strategy, most restaurants and would-be restaurateurs are feeling squeezed.
"It's a more daunting task to open up new places now because of the extremely high rents," Stephen Starr of Buddakan, Morimoto and Caffe Storico, said at a March Real Estate Board of New York commercial crossfire seminar. "Young entrepreneurs with brilliant ideas are going to have a hard time in this market and it's a shame—only the strong will survive."
Michael Weinstein of Bryant Park Grill, Clyde Frazier's and El Rio Grande is hesitant about setting up shop in the city unless there is an unusual opportunity, he said at the same event.
"The risk-to-reward ratio doesn't measure up anymore, and it's hard to have confidence in taking on the escalating rents for new projects," he said. "But once in a while restaurateurs come up with an idea that rings so true in the market. The key is securing a large response right from the start instead of having to build up your customer base slowly."