R/GA Moving to Brookfield's 450 West 33rd Street
---
---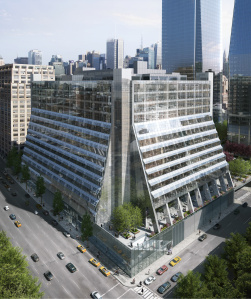 Digital advertising firm R/GA has signed a 173,000-square-foot lease at Brookfield (BN) Office Properties' 450 West 33rd Street, the Wall Street Journal reported.
RGA will occupy the entire 12th floor and part of the 11th floor of the building, also known as Five Manhattan West. The asking rents are now between $78 and $80 a square foot, Jeremiah Larkin, executive vice president and director of leasing for Brookfield, told the Journal.
Commercial Observer broke the news two months ago  that R/GA was leaving its Garment Center headquarters. Prolific hotelier Sam Chang of the McSam Hotel Group signed a $112 million deal to purchase the company's home at 350 West 39th Street, as CO reported less than three weeks later.
In February, Brookfield unveiled plans for a $200 million renovation of the office tower at 450 West 33rd Street. Scheduled for completion in 2016, the redevelopment of the building will include a new pleated glass façade, a redesigned lobby, upgraded and expanded elevators and enhanced systems. The 1.8-million-square-foot building was acquired by Brookfield in 2001 and will be integrated into the company's Manhattan West development.
There is about 300,000 to 350,000 square feet of space still available at 450 West 33rd Street.