On Labor Day, Do You Know Where the CRE Pros Will Be?
---
---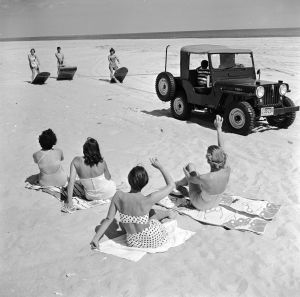 Labor Day marks the end of the summer doldrums, as real estate professionals take their last hiatus before settling in for the busy fall season.
Commercial Observer checked in with New York City commercial real estate brokers to see what they have cooking for this Labor Day holiday. Two are headed to the U.S. Open, one will be teaching his daughter to play bocce at home and another will be in Paris scouting out retail locations for a client.
David Schechtman, an executive managing director at Eastern Consolidated, will be in an Ocean Grove, N.J., rental he and his family take annually "one block from the beach and the town over from Deal [N.J.] where a large part of my client base summers." He said he will be on the boardwalk every morning at 5:30 a.m. training for this year's New York City Marathon. As for how much he'll be working, Mr. Schechtman responded: "My phone is always on. At least 20 calls a day. Waterproof case." The most fun he expects to have on Monday is "a minor league ball game, fireworks, BBQ and I pack for a 6:45 escape back to Bedford the next day."
Robert Knakal, the chairman of Massey Knakal Realty Services, will be at his summer home in the Connecticut River Valley. His activities will include playing tennis and golf, swimming, grilling and hanging out with his wife and daughter. Work wise, "On Labor Day itself, I will probably spend a few hours preparing for Tuesday. The home stretch toward finishing the year strong is upon us and there is a lot to do." The most fun thing he plans to do is eat a real hamburger. "I have been a turkey burger and chicken burger guy for years."
Zar Property NY's David Zar and Norman Bobrow, the president of Norman Bobrow & Co., will independently be attending the U.S. Open. Mr. Zar plans to enjoy kosher hot dogs and Mr. Bobrow is also banking on a BBQ with friends.
SCG Retail broker Geoff Bailey plans to spend the day at his beach club cabana in Sea Bright, N.J., enjoying the sun with his wife, children, and niece and nephew. He said of working on Labor Day: "I try to get completely clear of work on these long weekends. They are the one time that everyone is off. You need to be conscious of these opportunities to recharge and appreciate what life is about." His indulgence on Labor Day will be to "infuse vodka with tea bags and make John Dalys."
Bertrand de Soultrait, the founder of Bertwood Realty, will be in Paris in the morning and Burgundy in the afternoon and evening. "In the morning I will be canvassing the street in the [upscale 16th Arrondissement] of Paris looking for locations for one of my U.S. clients wanting to open his first store here in France." For the second part of the day, Mr. de Soultrait will be "riding horses, drinking good wine, hanging out with my friends [and] trying not to think about real estate for a half day."
"It's always a workation—not a vacation—for me when it comes to long holiday weekends," said Elliot Bogod, the founder of brokerage Broadway Realty. But, "This time it's different. We are attending a family wedding in a Brooklyn catering hall. It will be a big gathering so we may have some real estate talks in addition to some good music, dancing and food."
United Nations Ambassador and ID Model Management founder Paolo Zampolli and his wife are staying at Trump Soho as they finish developing their Gramercy Park townhouse. The couple plans to hang poolside with their son. In addition, the family will "go yachting around Manhattan."
Adam Luysterborghs, the founding principal of Avant Capital Partners, will be at his Greenwich, Conn. home with his family, "teaching my daughter how to play bocce and my son, the finer points of grilling meats."