Infant Wear Store Signs For Tribeca Storefront
---
---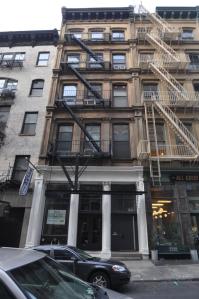 Infant clothing designer and manufacturer Egg by Susan Lazar moved into a retail storefront at 104 Franklin Street in Tribeca at the start of the month through an 11-year, 2,200-square-foot lease, Commercial Observer has learned.
The space formerly occupied by the sales office of a nearby residential property that has asking rents of $120 per square foot offered the designer a favorable location in a neighborhood where shoppers grew familiar with a former pop-up shop the clothing store operated in the area, said Brett Maslin of Adams & Co.
"The area is an ideal location for Egg as the brand already has a strong following in Tribeca," said Mr. Maslin in a prepared statement. "The space will allow Egg to develop and evolve as a brand in a supportive environment that promotes growth."
Mr. Maslin represented the tenant in the deal, while Guillermo Suarez of Massey Knakal Realty Services negotiated on behalf of the owner, 104 Franklin Street LLC, who is a "very long-term owner and neighborhood resident," Mr. Suarez said.
"The space itself is beautiful with high ceilings and tons of light helped by skylights and large picture windows in the back of the building overlooking Avenue of the Americas," he wrote in an email. "It provided the space they need for a boutique retail presence and street-level branding plus [an] office and showroom space in the rear of the space."