Greenpoint Eberhard Pencil Factory Building in Contract
---
---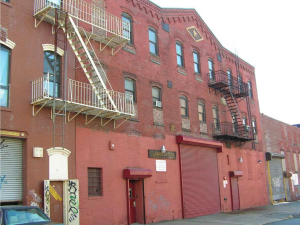 Caerus Group is in contract to buy one of the buildings at the former Eberhard Pencil Factory in the Greenpoint section of Brooklyn, Commercial Observer has learned. The building, at 74 Kent Street between Franklin and West Streets, went into contract for more than $7.5 million, said Leo Tsimmer, senior managing partner at Caerus.
"The purchase was purely based on our belief in the neighborhood and we love the building," Mr. Tsimmer said. "We like our neighbor [crowdfunding tech startup Kickstarter at 58 Kent Street]. It's just a cool block. It's a block and a half from the water. The neighborhood is changing. The vibe is way better than Williamsburg, to my taste. Williamsburg is getting so gentrified it disappears a little bit. That's why I like Greenpoint so much."
The vacant, 17,845-square-foot, three-story building will be restored and converted to an office building for one or more tenants. There will likely be a big retail space on the ground floor, said Alex Gandelman of aptsandlofts.com, who represented the buyer in the deal, and office condominiums on the second and third floors.
Jacob Tzfanya of CPEX represented the seller, a private investor, in the deal. Mr. Tzfanya would only say that the deal was in contract.
Mr. Gandelman said that a fully commercial building is needed in Greenpoint. As Commercial Observer previously reported, Greenpoint has a lot of planned residential waterfront development in the pipeline, but not that much commercial development to speak of.
The seller purchased the building for $3.6 million in December 2011, property records indicate.
"It's value skyrocketed," Mr. Gandelman said. "He decided to sell."