Law Firm Inks Times Square Relocation, Expansion
---
---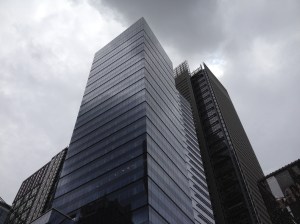 High-profile family law firm Cohen Rabin Stine Schumann will expand and relocate its Times Square headquarters to a 10,881-square-foot space at 11 Times Square in October, Commercial Observer has learned.
The structure completed in January 2011 with asking rents in the $70s per square foot will host the full-service matrimonial, family law and litigation firm on a lease that runs through June 2025, said partners Harriet N. Cohen and Bonnie Rabin.
"It's a spectacular building with fantastic views in a wonderful part of this dynamic city," Ms. Rabin said. "And we're thrilled about it."
Ms. Cohen added, "We're very excited to come to this beautiful building."
Sam Seiler of CBRE, who wasn't available for comment, represented the law firm in the transaction that will move it from a smaller space in a nearby building at 7 Times Square. Matt Astrachan and Dan Turkewitz of JLL negotiated on behalf of SJP Properties, the owner of the 40-floor building across the street from the Port Authority Bus Terminal that's now 85 percent leased, said Jeff Schotz, executive vice president of SJP.
"My understanding is that they didn't want to move that far from where they were," Mr. Schotz said. "Because of their clientele, they wanted a first class building, which 11 Times Square represents."