Extell Hotel Rumors Swirling Around Diamond District
---
---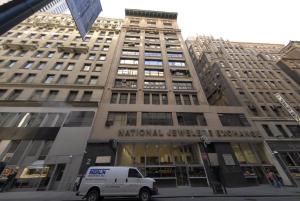 With 100 tenants either moved out or in the process of moving out of 2 West 47th Street in Midtown's Diamond District, business owners and brokers in the area are speculating about what will become of the building with few definitive answers available.
As whispers swirl around the district about a potential hotel on the building's footprint via a lot assemblage by Extell Development Company, nobody seems to know for sure what will become of the building that once housed ABS Partners Real Estate's jewelry exchange on the ground floor and top jewelry designers like Sasha Primak in the floors above.
"We don't know what's going to happen to the building, no one really knows," said Mr. Primak, who will be moving his company's offices three blocks south to Silverstein Properties' 529 Fifth Avenue after 30 years on the site.
The building's ownership changed hands in January through a $56.4 million sale from ABS Partners to a buyer named "Fifth 47 Owner LLC," according to property records filed in March. But two lawyers listed as representing the buyer on the transaction didn't respond to phone and email requests to confirm the site is Extell's property, and representatives for ABS Partners and Extell also didn't respond to requests for information on plans for the building.
But the Extell hotel rumor is legit, said brokers who represented parties in the deal that moved Sasha Primak off 47th Street into Leo Schachter Diamonds' former space in the Fifth Avenue building. Both TOWN Fifth Avenue associate broker Leah Rubin and Andrew Stein of Vicus Partners corroborated the talk that's been whirling over 47th Street like unused air rights.
"Everyone is very hush hush about this and it's tough to get info," Mr. Stein wrote in an email. "But I'm hearing it's going to be a hotel. I can't substantiate this, but that's what a little bird told me."
Meanwhile, Extell, SL Green Realty Trust and Thor Equities are reportedly negotiating over commercial development sites on West 46th Street and Fifth Avenue, with Extell and SL Green also reportedly in talks for a purchase of the top 13 floors of offices in Extell's International Gem Tower elsewhere on 47th Street.
The building where Stephen Baron's father first set up the family jewelry business sixty years ago and where the former exchange floor mostly consists of emptied booths these days could be part of the equation, Mr. Baron said.
"The rumor is that there are a few adjacent properties that are owned by the same owner who bought our building; presumably they would knock them down," said Mr. Baron, who now runs Baron Jewelry with his wife Cathie Baron out of a mezzanine space in the Gem Tower. He added, "I expect that, 20 years from now, you're not going to recognize anything on this block."