Dime Bank of Williamsburg Loans $32M for Manhattan Refis
---
---
Meridian Capital Group negotiated two new mortgages—totaling $32 million—to refinance mixed-use properties in Manhattan owned by Meyerson Investments, Mortgage Observer has exclusively learned.
The mortgages from Dime Bank of Williamsburg are backed by properties at 325 Third Avenue, in Kips Bay, and 3800 Broadway in Washington Heights. The six-story properties hold 79 units, together, as well as retail.
The 10-year, $18 million loan on 325 Third Avenue has a fixed rate of 3.13 percent and a term of 10 years, according to a source close to the deal who asked not to be identified. The $14 million mortgage on 3800 Broadway, also for 0 years, has a fixed rate of 3.25 percent.
Both loans are structured such that interest rates will be higher in the later years, the source said.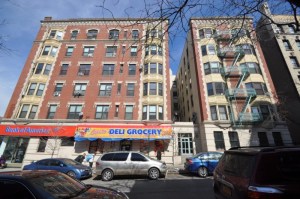 Meridian declined to provide the borrower, lender or details on the loan terms. No number was listed for Meyerson Investments.
While Dime has historically been seen as somewhat of a sideline player, the bank has recently amped up its commercial mortgage game, offering larger sums, the source said. The structure offered in these loans, wherein borrowers receive competitive initial rates that grow later in the loan term, has helped attract customers, the source added.
A call to Dime was not immediately returned.
Meridian Senior Vice President David Hayum brokered the deal.
"Meridian competed heavily for this loan and won the deal by structuring highly favorable terms including a low initial interest rate and flexible prepayment penalty," said Mr. Hayum in a statement to Mortgage Observer. "This allows our client to take advantage of the current short-term interest rate environment and limits their long-term risk."