Contractor Charged With Defrauding Workers at Former Brooklyn Hospital
---
---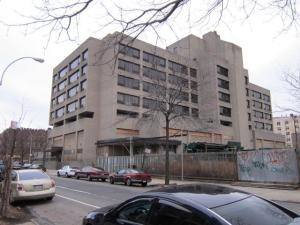 A Brooklyn contractor who promised permanent jobs and health care to more than 70 workers who helped him perform construction work at a former hospital has been charged with defrauding them of more than $100,000 in wages, the Brooklyn district attorney's office announced.
Over a three-month period ending Feb. 1, 2013, Anthony Miller, 51, and his firm, Bael Out Enterprises, also known as Bale Out Enterprises, hired more than 70 people to perform demolition and construction work at the old St. Mary's Hospital, at 170 Buffalo Avenue in the Bedford-Stuyvesant section of Brooklyn. The hospital closed in 2005. Mr. Miller allegedly told workers that he planned to convert the building into a center for veterans' services, with housing, a medical clinic and daycare.
Mr. Miller promised to pay the workers $12 to $20 per hour and up to $56,000 for foremen, the office of DA Kenneth P. Thompson said, and offered them an ownership stake in the center and permanent jobs, training and healthcare upon completion of the work. The DA alleges that at first the workers weren't paid and then when their boss gave them checks on Feb. 1, he had no funds available to pay them. In addition, Mr. Miller never obtained workers' compensation insurance for the workers, according to the DA's office.
Mr. Miller, 51, and his firm were charged with two counts of first-degree scheme to defraud and one count each of a violation of Workers Compensation Law for failure to secure the payment of workers' compensation insurance for more than five employees within a 12-month period, and a violation of a Labor Law for failing to pay all employees in accordance with the Labor Law.
Bail was set at $50,000, which he hasn't posted. Mr. Miller was ordered to return to court on Oct. 15. He faces up to four years in prison if convicted.
Scott Klein, Mr. Miller's attorney, didn't immediately respond to a request for comment.
Buffalo Avenue Realty Associates LLC bought the property for $19.5 million at the end of February. A tipster told Brownstoner not that long afterward that the new owner leased the building to Prospect Park Nursing Home.